Get Career Flexibility with the RN to BSN Through Michigan State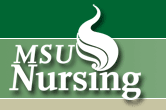 School Overview
Serves:
USA
Accredited by:
NCACHE
Enrollment:
Rolling
Financial Aid:
Yes
Scholarships:
Yes
Distance Learning Targets Working Nurses
MSU's BSN for Registered Nurses degree is offered in a totally online environment and is designed for busy, working nurses. The program prepares RNs for BSN degree completion. The Bachelor of Science in Nursingis the most preferred degree in the profession, with the MSN climbing fast. RNs with only two-year Associates degrees are limited to a particular scope of nursing practice and shut out from any advanced positions. While many basic RNs may have chosen a specialty, a completed BSN allows them career vigor not realized previously.
BSNs have complete freedom to choose their career niche, even explore travel nursing opportunities and change locations if they are so driven. The healthcare field is suffering from an alarming nursing shortage, and the demand for more highly trained and educated nurses is growing. This program is often called a BSN completion degree and is one of the more popular.
Requirements for the RN-BSN
Nurse candidates must show a valid RN license along with transcripts from a two-year degree. Applicants may have up to 60 previous nursing credits to transfer in as part of their BSN. MSU requires that a particular subset of courses be completed before students begin the program, as well. Applicant GPA must be at least 2.5.
Curriculum
The curriculum for this degree prepares students for a wide range of nursing situations. Courses include: patient assessment, global nursing issues, community health nursing, family health nursing, pharmacology and pathophysiology, and nursing research. Clinical practicum in community health, patient assessment, and leadership require students participate in hands-on nursing; remote students arrange to complete the courses locally and with program-approved preceptors.
The RN-BSN programs start once an academic year, in the fall. Scholarships are available and applicants are encouraged to apply.
Career Opportunity
The opportunities for degreed BSNs expand exponentially from their entry-level RN options. Almost every nursing specialty welcomes BSNs and many require it. Nurses may work in cardiac, critical care, emergency and trauma medicine, flight nursing, oncology, home health, OB-GYN, informatics, and hyperbaric nursing, to name a few of the dozens of nursing specialties.
Nurses with their BSN degree may choose to continue their education, following the baccalaureate degree with a Masters of Science in Nursing. Advanced practice degrees are becoming increasingly popular and offer an even more enviable career flexibility.


Get Your Free Information on Nursing & Healthcare Programs
Find Your Healthcare Degree Fast