Put Your Finger on the Right Nursing School in Iowa
Search Our List for Campus and Distance Programs
The nursing trend is clear: shortages continue to drive job health. This goes for Iowa, as well as most other states in the nation.

Types of Schools and Nursing Degrees in the State
You have more than 2-dozen campus-based nursing schools to check out located in all areas of the state. Choose from major university programs like those offered at the University of Iowa, or community college nursing degrees. Prospective nursing students, are you confused about what kind of program you need to get into a good RN job in the state? A 2-year Associates in Nursing gives you solid practical skills and everything you need to get your RN license. AND you can always choose to add two additional years to that to become a BSN degreed professional RN. In fact the RN-to-BSN programs are some of the most popular programs and many can be found online for maximum convenience.
Schools for Professional RNs
Experienced RNs, here are a few educational models among the Iowa schools: campus-based advanced degrees, online certifications and degrees that boost your career, and blended programs that combine the best of both. Some of the biggest push in the nursing industry is to send you back to school for your nurse educator or nurse leader degree. But you have so many more choices, including forensics, legal nursing, midwifery, anesthesia, practitioner, clinical specialist and more.
Salaries and Jobs in Iowa
There are 39 hospitals in Iowa (1) that employ the largest number of nurses. However, don't neglect to consider other environments in which nurses work: long term care facilities, schools and businesses, home care, private doctor's offices, private practice for nurse practitioners and midwives, and outpatient clinics, among others.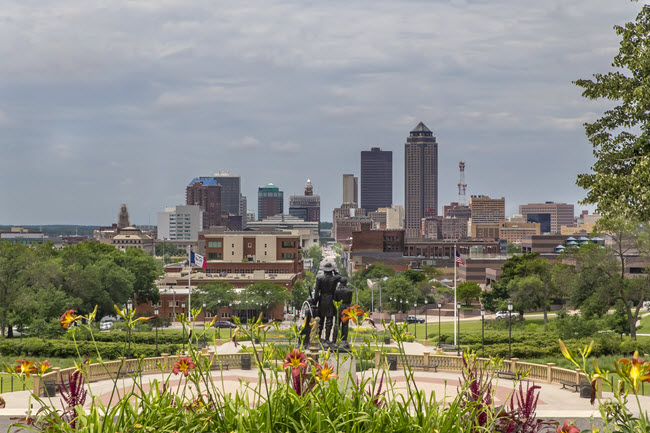 Salaries will vary based on your level of experience, education, practice specialization and zip code. But here's a metric for you: the average staff RN working in Des Moines earns between $53,000 and $64,000 annually (2). A couple of ways to boost your salary include taking a travel assignment, working on a per diem basis and making yourself available to work overtime, weekends and extra shifts.
Visit the Iowa Board of Nursing for more information on nursing in Iowa and job licensure.
Nursing Schools in Iowa Offering Distance Education Options
Briar Cliff University
Department of Nursing
NLNAC Accredited
Purdue University Global
CCNE Accredited
University of Phoenix
CCNE Accredited
Search our big list of online nursing schools for many more distance education opportunities.
Campus-based Iowa Nursing Schools
Allen College — Waterloo
Nursing Division
CCNE, NLNAC Accredited
Briar Cliff University — Sioux City
Department of Nursing
NLNAC Accredited
Clarke College — Dubuque
Department of Nursing and Health
CCNE Accredited
Coe College — Cedar Rapids
Department of Nursing
CCNE Accredited
Des Moines Area Community College
NLNAC Accredited
Dordt College
CCNE Accredited
Graceland University — Lamoni
School of Nursing and Allied Health
Grand View College — Des Moines
Division of Nursing
CCNE Accredited
Hawkeye Community College — Waterloo
Iowa Central Community College — Fort Dodge
Department of Health Science
Iowa Wesleyan College — Mount Pleasant
Division of Nursing
NLNAC Accredited
Iowa Western Community College — Council Bluffs
Health, Biological and Sports Sciences
Purdue University Global
CCNE Accredited
Luther College — Decorah
Department of Nursing
CCNE Accredited
Marycrest International University — Davenport
Department of Nursing
Mercy College of Health Sciences — Des Moines
Division of Nursing
CCNE, NLNAC Accredited
Morningside College — Sioux City
Department of Nursing Education
NLNAC Accredited
Mount Mercy College — Cedar Rapids
CCNE Accredited
North Iowa Area Community College — Mason City
Division of Health Related Programs
NLNAC Accredited
Scott Community College — Bettendorf
St. Ambrose University — Davenport
Nursing Department
CCNE Accredited
University of Dubuque — Dubuque
CCNE Accredited
University of Iowa — Iowa City
College of Nursing
CCNE Accredited
University of Phoenix
CCNE Accredited
Western Iowa Tech Community College
NLNAC Accredited
1 American Hospital Directory
2 Salary.com
Get Your Free Information on Nursing & Healthcare Programs
Find Your Healthcare Degree Fast