Flight Nursing Positions Require Special Trauma Certifications
Adrenaline Charged Jobs for Ultra-Skilled ER Nurses
Flight nurses are a highly skilled subset of Emergency and Trauma nurses. Competitive jobs take RNs, give them advanced disaster and flight training then fly them into disaster areas and trauma incidents where their skills are put to the test each and every time. In situations such as these they are required to medically secure and perform on the fly emergency care almost as fastidiously as an ER nurse. Trauma helicopters and air transport planes are meticulously cared for and stocked with some of the most technologically advanced field medical equipment. Stocking and maintaining the flight vehicles is a large part of any flight nurse's job.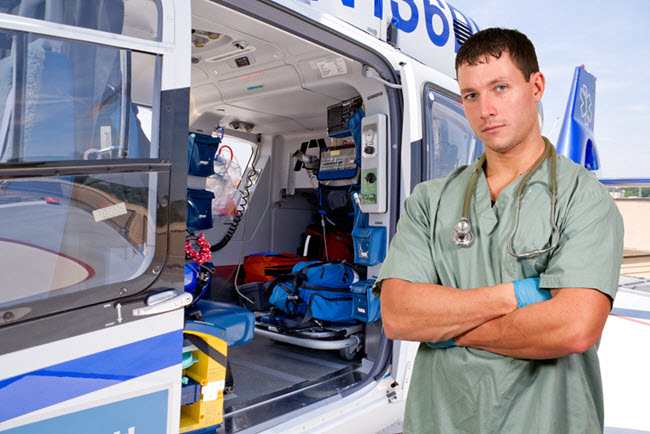 Role of a Flight Nurse
When disaster and trauma sites are remote or inaccessible in a timely fashion to EMS personnel, trauma nurses may be flown in to retrieve victims. Nurses must respond rapidly to initial emergency calls. While in flight they may have regular updates from first responders on the ground, from EMS, as well as communication with ER and Trauma doctors. On site their skills must be top notch, confident, and quick. They medically secure victims, assess patients, get them loaded onto the aircraft, establish contact with trauma physicians, perform onsite emergency care well beyond that of a normal EMT, and prepare a victim for air travel. Some types of situations into which a flight crew may venture include:
Multi-vehicle car accidents
Train wrecks
Tornado aftermath
Hurricane aftermath
Sometimes flight nurses duties take them to locations where their job is to accompany a medical transfer patient from one location to another. They perform in-flight care and assessment, but patients are much more stable than trauma victims. They also coordinate with local law enforcement, fire safety personnel, disaster directors, and first responders to develop and modify disaster plans.
Flight nurses may not always be able to respond to emergencies. In heavy weather, regardless of type of trauma or remote incident, many flight nurse crews are grounded.
Degree and Certification Requirements
Flight nurses are RN licensed, and many have their BSN and MSN degrees. They have earned these ultra-competitive jobs from outstanding tenure as ER and Trauma nurses, or as Critical and ICU nurses. Nurses that retire from flight jobs may fill leadership and administrative roles in trauma departments, become educators, or continue nursing in a related specialty.
The Certified Flight Registered Nurse is the industry-accepted certification. But nurses should also have their Certified Emergency Nursing credential also. Other professional certifications necessary include:
Basic Life Support
Advanced Cardiac Life Support
Pediatric Advanced Life Support
There may be other certifications specific to a particular flight crew.
Military Flight Crews
Both the Air Force and the Navy have flight nurses, but many face a waiting list of fierce competitors for these jobs. The Navy Flight Nurse crew openings are a rarity so most candidates are advised to check out the Air Force; it "hires" more than the Navy, but flight positions remain elusive. Regardless, applicants must be military hungry, as opposed to simply focused on flight nursing, because they may realistically not find a spot.
Get Your Free Information on Nursing & Healthcare Programs
Find Your Healthcare Degree Fast