Explore the Country from Top to Bottom
Nurses on the Road Reap Big-Time Salaries
There may be no other career in which professionals have such freedom and flexibility than in nursing. Travel nursing is illustration of that freedom. There is much made about the nationwide nursing shortage. The catch-22 for travel nurses is that without it their options to hit the road and go almost anywhere could be significantly downsized. However, this is unlikely. One of the biggest draws to travel nursing is the pay. Travel nurses, especially those willing to go "where the money is" may earn exponentially more than their staff counterparts back at home and many assignments feature completion bonuses between $2,000 and $5,000.
Travel nurses, or travelers, have few worries or concerns. In fact, travel-nursing agencies spend millions advertising their services to RNs and LPNs every year. For interested nurses all it takes is a phone call and a brief telephone interview to get on board with an agency. But who is eligible?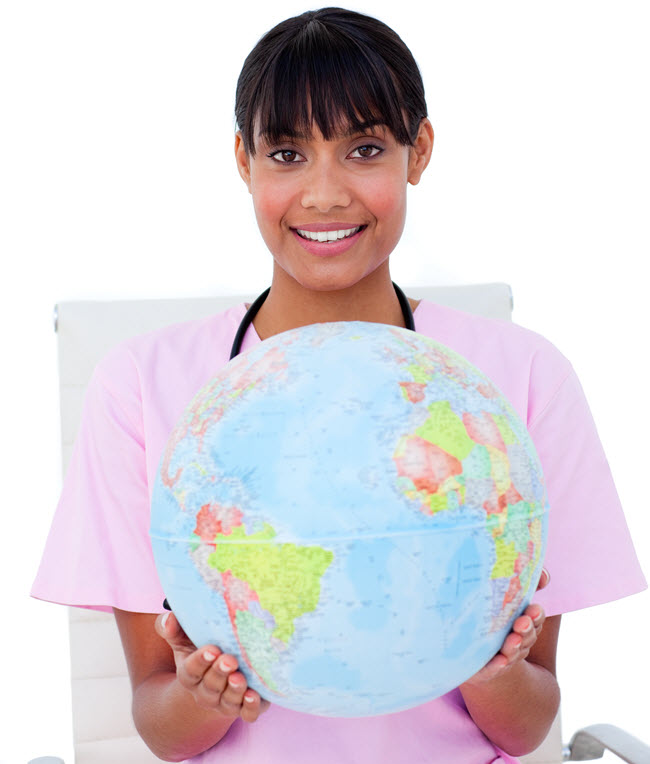 Travel Assignment Requirements
Travel nurse candidates may be LPNs, RNs, or advanced practice nurses, and have at least a couple of years in full-time clinical practice. Each assignment demands different requirements, but nurses with experience in critical and acute care, ICU or Med-Surg nursing often have expansive experience with patients and a host of medical problems. These specialties provide nurses with comprehensive hands-on patient care and teach quick and deliberate decision-making skills—just the complement of skills for which most hospitals and agencies are shopping. But there are plenty of other very specific specialized assignments open to travelers - like jobs in the Veterans Affairs Travel Nurse Corps.
Nursing Agencies that Recruit Travelers: What They Can Do for You
There are dozens of travel nursing agencies. All are fairly similar, but like other competitive businesses, they too offer special perks from one to the next. Nurses can often get the inside scoop on agencies from other travel nurses. Plenty of online forum sites provide an environment in which nurses may post questions to travelers. When shopping for a travel agency, make sure you ask the following questions:
What are your nursing requirements?
Where can I go?
How long is the assignment?
How much will I make while there?
Are there any bonuses attached to the assignment?
Are the hours guaranteed?
How often am I paid?
Does the assignment require overtime hours?
What kinds of shifts will I be required to work?
What days of the week does the assignment demand?
May I extend my contract in a particular location if I wish?
Does the agency cover any part of my travel expenses?
Is my housing completely paid for?
Do I have any flexibility to choose a particular area in which I'd like to live?
What other expenses are covered?
What kind of insurance plan will I have benefit of?
Is my out of state license paid for by the agency or is that my out of pocket expense?
Are there any physicals or medical exams required for my contract? Who pays for them?
Travel nurses are generally assigned an agency representative. Make sure you talk with this person a few times before signing contracts. A rep may make or break an otherwise good assignment and send you searching for an alternative agency. Don't think you're locked into one agency just because you've taken an assignment. Many travel nurse jobs last three months or more. Can't stand your agency? Think they have not given you a fair shake or ignored some of your needs? There are plenty of others from which to choose. On the road travel nurses have the good fortune to come into contact with many other travel nurses, some of which have their own good advice on agencies and assignments—this is one situation in which "gossip" may be a good thing.
Where the Money Is
Agencies will tell you where you can earn the most money as a traveler. But you'll have to forgo the beach in the winter or the mountains in summer. Places like Arizona in the summertime can be brutally hot, but the pay there is a big attraction. Like snow? Wisconsin and other upper Midwest travel assignments in the wintertime are another "money" option. Locations that tend to have less competition for jobs will pay more than popular locations. On top of normal hours and pay, assignment hospitals may have overtime hours available if you're interested in really raking in the money.
What To Do While You're There
Wherever your travel nursing assignment may take you, make sure to take full advantage of the region. This is the biggest perk of travel nursing—seeing the world. Explore the area; check out the nightlife and the local eateries. Plan daytrips to regional hot spots.
Travel nursing is one of the hottest job options for nurses and it's completely customizable.
Get Your Free Information on Nursing & Healthcare Programs
Find Your Healthcare Degree Fast