Short-term Summer "Getaways"
Summer Camp Nurses Needed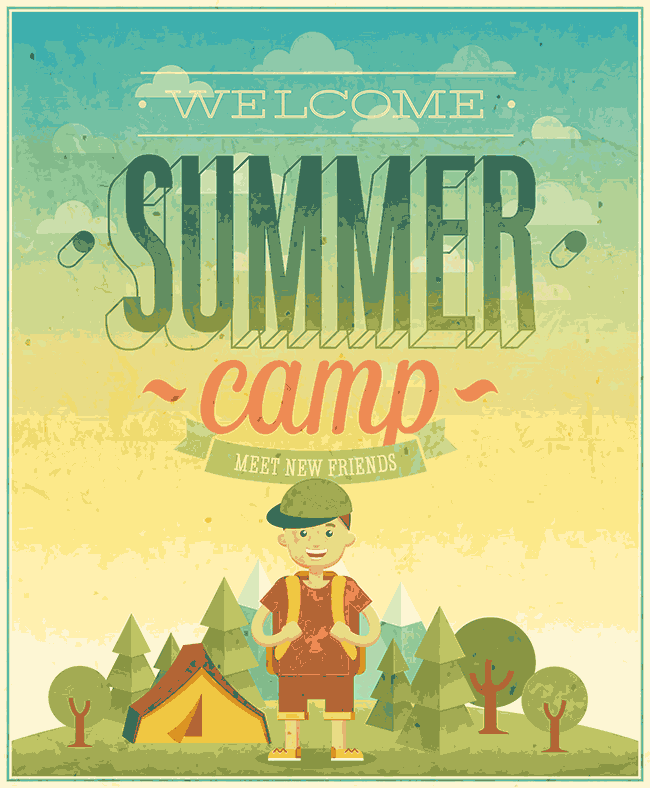 Click here for an enlarged printable version of the above poster.
Summer camps pop up all over the United States each summer. Thousands of kids pack up and head out to thrilling stays in remote areas where fun and education come together. But these little frontier locations also offer environments for illness and injuries: enter the camp nurse. Camp kids may present with everything from a bee sting to a broken leg, seizures and even worse.
Role of Nurses in a Residential Camp Setting
Nurses employed at summer camps work in shifts at the camp infirmary, an informal and non-threatening kid-friendly "clinic." Depending on the size of the camp and number of campers, nurses may work alongside a handful of others, including a camp physician. Nurses' duties include both campers and camp staff. He or she must be able to respond to the unique signs and symptoms peculiar to kids and be trained to handle contagious sickness, assess children with accuracy and comfort and monitor them while they are away from home. Nurses are also directly responsible to interface with dietary personnel for kids with allergies, diabetes, and various special nutritional needs. Children with medicine regimens are also the responsibility of the nursing staff.
Do You Have What it Takes to Become a Camp Nurse?
Most summer camps prefer to hire a range of nurses: advanced practice, RNs, and LPNs. In some cases, nursing students may be eligible to earn some good hands-on experience in a camp setting. Camp environments are unique patient care settings and often place nurses into remote quarters where all types of medical maladies must be dealt with. For this reason most RNs hired by recruiters have Emergency and Trauma nursing experience, along with pediatric experience. Nurses may be further chosen for the length of time they have been in practice as well as their confidence with decision making.
Nurses must typically have certifications in Basic Life Support and Pediatric Advanced Life Support. Out of state nurses must apply for licensure within the state they'll be working, but most recruiters cover the associated costs for this licensure.
How To Find Camp Nursing Jobs
Camp nurses may be recruited through camp affiliates or directly through camps. Many of the larger camps in the U.S. must outsource recruitment of all types of staff to an organization that acts like a staffing clearinghouse. There are plenty of camp nurse recruiters and databases of open jobs. Like other travel nurse assignments, much of the application and interview process is carried out over the Internet or the phone. Eligible nurse candidates should ask the following questions of a camp official or camp recruiter:
What other medical staff will I work with?
How far away is the closest hospital?
Do I have insurance and benefits during my camp assignment?
Is room and board paid for in full?
Do you provide any extra money for travel expenses?
How often do I get paid and how much?
What is the age group for which I'll be responsible?
Camp nursing jobs offer a short-term, unique opportunity for on-the-go nurses. Add the experience to your resume.
Get Your Free Information on Nursing & Healthcare Programs
Find Your Healthcare Degree Fast