Where to Find the Nursing Program Best for You
Popular Online Nurse Schools
Purdue University Global - Certificates, Associate's, Bachelor's, & Master's Programs. Building on Purdue's mission to provide access to affordable, world-class education, Purdue University Global delivers a fully personalized online experience that's tailored to working adults, which helps nurses unlock new career opportunities while working around their job schedules.

Walden University - Bachelor's, Master's and Doctoral Degrees. Specializing in post-graduate learning, Walden offers a variety of Master's level education programs.

Grand Canyon University - Bachelor's, Master's Degrees. Grand Canyon is known as being one of the most popular Christian-based colleges. In addition to offering campus based educational opportunities they also offer an array of online education opportunities.
Choose From Community Colleges, Universities, and Online Programs
Nursing careers have wide appeal. Career changers discover new challenges and consistent income and benefits; college age students have access to versatile careers with solid salaries, decent hours, and upward mobility; and professional nurses may navigate continuing education career options laterally or vertically, including advanced degree choices that may lead to administrative and educator roles.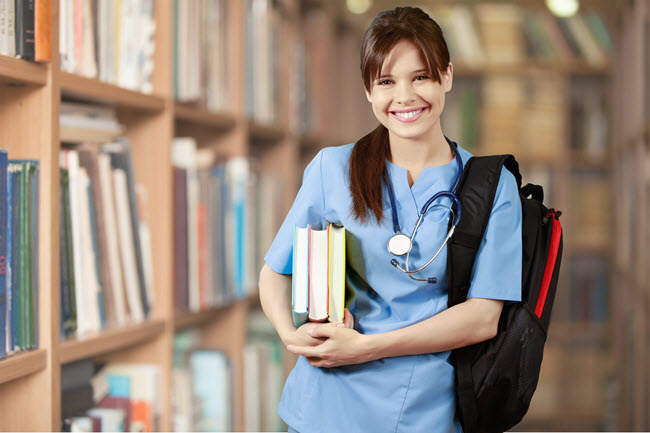 Where to pursue a nursing degree opens up another basket of options. There are traditional baccalaureate and graduate nursing programs delivered in on-campus settings, but community colleges pose a cost challenge many students simply cannot overlook. And then dozens of nursing degree variations may be tailored to a predominantly online curriculum. Working adults and those with family and other responsibilities are particularly drawn to the distance learning degrees.
Concept of Accreditation
Accreditation is a critical concept to understand when choosing a nursing program. Accredited schools have been evaluated for overall quality in the scope of the larger nursing industry. The Department of Education recognizes two accrediting agencies for nursing programs. Accreditors evaluate programs on the basis of a checklist of criteria that includes, but is not limited to, program curriculum, student and faculty support services, and the ability to make improvements as necessary.
The Learning Environments
Nursing programs each provide a unique learning environment:
When choosing a program that's right for you make sure to check your state board of nursing for their approved list of nursing programs. Also do not overlook accreditation, especially when shopping for online nursing degrees.
Online Degree Opportunities
There are nearly 100 accredited online nursing degree opportunities available. Research your options today.


Get Your Free Information on Nursing & Healthcare Programs
Find Your Healthcare Degree Fast