Why Are Nurses Still so Underpaid?
The Mission-Critical Sticky Factors in Nursing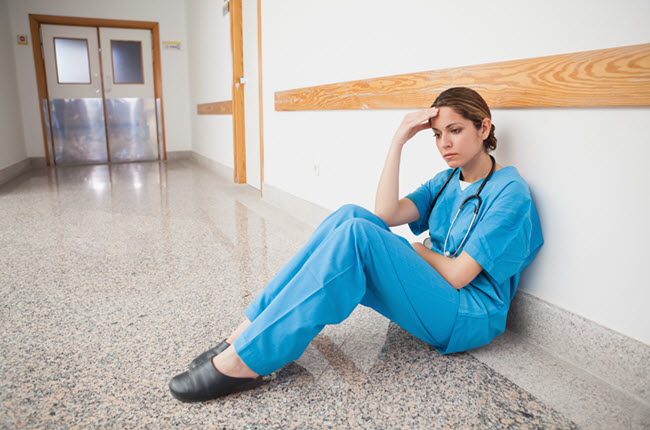 The nursing shortage is a veneer for other nursing-specific problems that really go under-reported. We tend not to hear about them because they lay bare a few disappointing truths about nursing often only known by insiders.
First, nursing salaries stink—period.
Second, nurses as a whole are uninspired when it comes to furthering their education or moving up the "healthcare ladder." The rest of the world thinks it's a novel idea, but nurses think little about it.
Third, the nursing shortage doesn't get any better when you try and put new nurses into the pipeline simply because it's an open-ended model—as fast as you drop some new into the stack a slew of very experienced – the real valuable human resources – go tumbling merrily out the back side, relieved to be free and onto OTHER CAREERS, OTHER upward ladders.
These are huge factors in the nursing profession in one way or another and each poses a real world "sticky" problem.
"Sticky" Problems from a Marketing Perspective
In business and marketing when something is called "sticky" it's in reference to a tangible thing: a topic, website or something else that has been properly designed to capture and hold an individual's attention, draw a following and inspire action and motivation. For example, a "sticky" website contains data, information, content, or products that hold clients and customers fast: they opt-in, they buy, they read, they believe, they become loyal followers, subscribers, customers—they buy in. When you apply the "sticky" concept to the issues in nursing—pay, education, and retention— you see that each lacks the substance to keep nurses loyal and attached to jobs in the field. In a nutshell, nursing is so weak on follow-through that many professional, hard-working nurses simply never buy-in.
Again, the problem in the field isn't a result of a shortage of nurse educators, or the result of the larger general nursing shortage—it's about much more mission-critical business and marketing components: essentially money and investment.
Sticky Salary Incentives
When someone wants to get the attention of most of us, just talk about money. Cold hard cash is a huge motivator. The over reported story of the "nursing shortage" should be accompanied by an equally alarming topic—nursing salaries.
Pay for nurses can differ by many thousands of dollars. Salaries are set based on region and location, level of experience, and sometimes on specialty (not to be confused with education necessarily, but acute care, critical care, trauma, medical, etc). While we're taking a tour of salaries and what they mean, try and keep in mind exactly how intense the job requirements of a professional patient care nurse are—many deal with life and death situations, sustenance of human life, guidance for the acute and chronic patient and girders for family and friends. They educate, make lightning fast decisions, and know a heck of a lot more about a patient's needs than most physicians. They roll up their sleeves and get dirtied with body fluids everyday.
A survey of RNs in New York showed that 45% of respondents, when asked to rate a list of job satisfaction factors, were hands-down most dissatisfied with their salaries (1).
The bare bones national average for a working RN is : $60,700 (2). That's combining all the salaries across the country, from lowest to highest and everything in between.
Lowest 10% of RN salaries average around $40,000
Highest 10% of RN salaries are $83,400 and above (3)
If you're thinking that $83,400 and above is pretty darn good be clear that that particular statistic represents only a fraction of the working RN population, or 10%. Much of what determines an RN's salary is based on location and experience (not to be confused with education/degree). Let's take location first.
In the major metro areas of the country the following statistics (4) reflect the average annual salaries for RNs (the higher end of the pay scale):
Boston — $76,000
Chicago — $64,500
Detroit — $64,000
Dallas/Ft Worth/Arlington — $61,800
DC — $71,700
Los Angeles — $75,700
Miami — $64,500
New York/Northern NJ — $76,000
Philadelphia/Wilmington DE — $66,000
San Francisco — $90,700
Seattle/Tacoma — $71,700
While these figures taken at face value may look appealing consider that these salaries are only for those RNs working within these metro areas AND that the real world value of these salaries doesn't necessarily reflect corresponding costs of living in high dollar places. For example, take California, the seemingly "impressive" salaries above for nurses in either San Francisco or LA become proportionately dismal when the real world cost of living in such places is overlaid (5). The number of RNs the above earnings apply to constitute a little over 1/4 of the RNs in the U.S. or 661,540 of the 2,485,530 currently accounted for nationwide (6).
Now let's take experience as a factor in salary determination. Depending upon the hospital and the specialty, experienced nurses may earn considerably larger salaries for experience. But this is a convoluted issue: consider that for the first time in history the largest percentage of nurses is mid-career—experienced (7). Many of them also have one foot out the door either because they're burned out or they are eager to retire. Either way the messages are mixed: does healthcare want to retain mid-career nurses for their experience and potential or are they too costly for healthcare to keep on the payroll—which is it and who's to determine?
So what do the remaining ¾ of the professional RNs earn? They fall into that average category somewhere between the $40,000 and $83,000. Type of healthcare facility, specialty and region all drive salary up or down. Hospitals all have completely singular benefits that could include pay specific to specialty (for instance does a critical care RN earn more per hour than a floor nurse?), proactive retirement plans, medical benefits and even annual bonuses for good performance. Anecdotal evidence suggests that these types of isolated job components—"sticky" factors—are somewhat effective when it comes to nurse retention and job satisfaction.
Women's Pay for Women's Work—Time's Up
Guess what? This topic—the state of nursing salaries—is not a new one. Poor compensation for RNs has been the status quo for decades (8). And chances are good that history has played a key role in laying the track for that train. The nursing profession was originally designed specifically for young women. Hospitals took student nurses on and trained them to work as the "handmaidens to physicians" (9). That might have been fine early in the 20th century, but early 21st century women, who continue to hold 90% of all nursing jobs, are not quite as willing to be handmaidens, not in the long-term anyway.
Physicians possess ultra-specialized knowledge of medicine to be sure, but without a nurse caring for a patient bedside, he or she is absolutely paralyzed as a successful provider. For example, take a patient lying in an ICU bed with a pressure sore on his backside. His nurse is acutely aware of it, has taken all the steps she or he can take to provide care and prevention, but also knows that each time the patient has a bowel movement in the bed that the risk for infection increases regardless of how fastidious the clean-up. This type of infection can have serious consequences for critically ill and otherwise compromised patients. When the physician comes through on rounds he or she has no idea that it's there, couldn't and wouldn't without an informed RN. That RN in many cases actually is the facilitator for further care; reports the ulcer to the physician and even recommends that wound care technicians be referred to the patient. RNs facilitate a lot of mission-critical patient care that might otherwise go by the wayside or be untimely.
How different, though, might the profession of nursing be had men initially been driven to it?
This gender-biased work model has yet to be hashed out, once-and-for-all.
Again the only places a professional RN gets to work with any level of independence or autonomy is after she or he earns an advanced practice degree such as Nurse Practitioner, anesthetist, midwife, or clinical nurse specialist. And of these the most lucrative—return-on-investment—is the CRNA (certified registered nurse anesthetist).
Why Nurses Don't Talk About Education
Selling education for nurses has become big business, particularly online education where degrees and professional certifications have become as respected as any on-campus nursing program. And as if the only thing holding professional nurses back from jumping into their next big career move via education were convenience and busy work and family schedules, most schools, even some of the most prestigious brick and mortar nursing schools, have painstakingly launched state of the art online degrees that solve any convenience issue that could arise. But it's still not the answer to the underlying problem, it's still not the sticky stuff.
In any other area of business and industry professionals sharpen their chops on experience and gain career leverage when they tack-on more marketable and bankable skills usually earned in professional certifications or higher degrees. However, nursing education has seriously lagged behind in this respect—until now. NOW degrees for nurses is a hot topic. But do working nurses really talk in terms of "scaling the healthcare career ladder"? First, professional RNs and LPNs have always been required to meet quite rigorous educational standards, when they get their licenses AND to keep them. CEUs, professional certifications, and new job-specific skills like electronic charting and much more, are just a sample of what most must absorb. Second, many nurses do choose to pursue advanced degrees, but there's an alarming number of RNs that also believe their jobs are career dead-ends (10) and that's a very real loss in an industry that just cannot recover from many more dead-on hits.
Fact is many excellent and experienced RNs between the ages of 19 and 30 will exit the nursing profession altogether (11), on to raise families or pursue alternate careers.
When Pay Does Not Match Education
First not all hospitals and healthcare employers offer monetary reward or higher salaries for education. A common example: in many hospitals, nurses that come on board with their Associates Degree in Nursing, the 2-year degree, are given no extra salary bonus if they choose to go on and complete their Bachelors, or BSN. The return on investment is zero, so why bother? Return on investment—it applies everywhere, even to nurses.
No "Sticky" Substance in Nursing Education
Maybe one of the biggest failures of nursing education are the lack of a realistic "buy-in" for nurses urged to pursue Nurse Educator degrees. The number of qualified nurse educators has deteriorated and in the void is the call to produce more. This particular shortage is a critical factor in the growing nursing shortage at large and contributes to why increasing numbers of prospective nursing students are being waitlisted at nursing schools. Guess what? Nurse faculty and educators armed with the advanced degrees that qualify them to teach, are given the good fortune to earn LESS than had they remained an experienced RN toiling away as a hospital staff nurse! The return-on-investment for a nurse educator degree ends up putting a pro RN in the red, economically. For example: compare the salary above for an RN in Chicago, $64,500 / yr, with that of a nursing instructor in Chicago, $55,300 (12). Where's the sticky stuff?
(To be fair there are isolated cases of bonuses awarded to RNs so motivated to make the career move.)
Nurses have to really have a passion for the teaching field to suffer that kind of loss. For this reason many educators continue to split their time between classroom and patient care simply because they earn more as an experienced RN than as a pure teacher. They also get to continue to keep skills fresh and position themselves to pass along the most up-to-date practical know-how they can to students, but money is a critical issue in this segment of the nursing field.
Another big push in education for nurses is for Nurse Administrators. These jobs blend healthcare/nursing with business, but compared to equal counterparts in business, Nurse administrators again come out salary-wise on the bottom end of the pay scale.
Where Exactly Nurses Turn for Bigger Career ROI
Nurses know where they can cash in other good job investments within their industry. When RNs do talk about going back to school for a career in nursing by far they are talking about one of the advanced practice degrees, such as nurse practitioner and especially nurse anesthesia. Nurse anesthetists may earn anywhere between $90,000 and $120,000 right out of school.
If there's any chatter at all about making it big in nursing it's that one job right there, as an anesthesia nurse. The stellar salary ultimately depends on region, hospital, etc. But no other aspect of the nursing industry can offer this kind of ROI to a working nurse. Truth is though, that few RNs can really make a career in nursing anesthesia happen. Becoming a nurse anesthetist is one of the few degrees that just cannot be managed online, which means nurses must take between 2 and 2.5 years away from work to go to a brick and mortar school willing and able to accept them. These programs are competitive and only a few make the cut. Reality: the school a budding CRNA is accepted into could be somewhere across the country. If you have a family, do you have the flexibility and courage to pack them all up and make the trip? Nursing anesthesia programs are notoriously rigorous and student attrition is always a concern.
Nurses may also squeeze additional money when they are able to take travel assignments. Again, travel nursing however lucrative is not designed but for the most carefree and is probably not a long-term arrangement. Per diem nursing is another method for eking a bit more cash flow from the profession, but not ideal for most working adults.
Lastly, LPNs stand to make significantly more money when they jump to RN licensure and a higher education.
When nurses talk about making more money these are the things they talk about, not going back to school to become a teacher or nursing executive—these fields offer few "sticky" incentives, no notable pay or reward for the effort and headache.
Healthcare Issues Go Way Beyond Nursing
Obviously healthcare CEOs wrestle with issues beyond those of the national nursing shortage, but nevertheless this population of healthcare workers does a lion's share of the real patient care, what determines patient satisfaction, which shapes the form of a hospital's or care facility's quality. Ironically these are the biggest issues impacting the Big Picture of healthcare and in which nursing is key: patient satisfaction, hospital quality, and staff shortages (13). Hospitals likely to make inroads in nurse recruitment and retention will be most innovative when it comes to offering cash incentives and rewards for dirty work well-done—the "sticky" factors that matter in the real world. It's not just the new-blood nurses that need to be sold (a real bone of contention among nurses is lucrative sign-on bonuses meted out to new RNs, while experienced nurses, deserving, see little cash thrown their way), but mid-career RNs that make up the healthcare backbone must also be treated as a valuable commodity.
Ideally, in business once you find the missing sticky-stuff and apply it, the problem begins to correct itself.
(1) September 2002 Survey of Registered Professional Nurses, New York State Nursing.
(2) Salary.com.
(3) Bureau of Labor Statistics, Registered Nurses, Earnings.
(4) BLS, Occupational Employment Statistics, Metropolitan Area Cross-Industry Estimates, 2007.
(5) North Carolina Center for Nursing, now offline, originally published at www.ga.unc.edu/NCCN/research/quickfacts/Salary+Adjustment+Table.htm
(6) Kaiser Family Foundation, State Health Facts.
(7) "Nursing Workforce Expands as Average Age of RNs Increases, HRSA Survey Finds," U.S. Department of Health and Human Services.
(8) Nursing's Economic Plight, Evelyn B. Moses, The American Journal of Nursing, Vol. 65, No. 1 (Jan., 1965), pp. 68-71.
(9) R. Donley, M.J. Flaherty, "Revisiting the American Nurses Association's First Position on Education for Nurses." Online Journal of Issues in Nursing, May 31, 2002.
(10) NYS Nursing survey.
(11) NYS Nursing survey.
(12) BLS, Metro Area Cross-Country Estimates.
(13) Jennifer Decker Arevalo, "Leading Issues Facing Today's Hospital CEOs," AMN Healthcare.
Find Your Healthcare Degree Fast