Nation in Need of Nurses - Why a Freeze in Hiring During an Era of Shortage?
Our Big, Fat Dysfunctional Family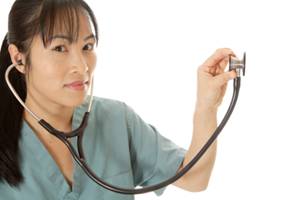 Up until Fall 2008—just a few months ago—the nursing profession was exactly what it was promised to be: rock-solid, fail-safe, bullet-proof in the face of even Economic Calamity. That, in and of itself, was a major selling point for the career if your job happens to be in nurse recruitment and retention. Economic stability in a job is hard to come by and it has been the one absolute that nurses have been fortunate enough to call their own…until now.
But if it's not one thing then it's another wrench in the works: from slow-poke bureaucratic red-tape, unclear rationale for hiring shut-outs, and the Catch-22 of nurse hiring freezes. For God's sake, do we need nurses or not?
Shortage, Recession, and Widespread Hiring Freezes
2005: Nursing shortage
2006: Bigger nursing shortage
2007: Nursing shortage grows bigger
2008: Bear Stearns goes belly-up, Lehman steps in with a bail-out.
Market tremors on Wall Street
Government bails out AIG
Stock Market takes a beating
Government bails out Big Auto
2009: Nursing shortage?
Jobs in Healthcare?
Murmurs of looming banking bail-outs…
Have we bailed out the wrong industry?
EVERYONE needs nurses—and at every level of the game, CNA, LPNs, and RNs. At some point I'll need a nurse, my family will need nurses, your family will need nurses, nurses will need nurses and our lives may depend on them. Doctors are great, but they don't do the real patient care that guides the sick from one day to the next: from illness to wellness, from dying to dignified death, as well as nurturing the families and loved ones along for the ride.
Just a few months ago The Nursing Shortage seemed as imminent and ominous (1) to Healthcare as the Abominable Snowman to Rudolph and his timid little reindeer-girlfriend, Clarice. Hospital units in every region of the country have claimed to have been stunted with staffing shortages, which historically lead to low morale and quick nurse burnout, which in turn leads to career ditchings, which leads again to more staff shortages and perpetually lower staffing levels, which continues to wreak havoc with nursing morale, and on and on with that Merry-Go-Round.
Has the nursing shortage gone away? Or has it just been swept under the rug for right now because we're one big dysfunctional family?
Fresh and highly localized industry research is providing much more granular data on nursing staffing levels and needs across dimensions as targeted as a city. For example, the preliminary results from a December 2008 research survey in Houston, Texas (2) identified a targeted need for 5700 more nursing staff. Why? The addition of 3000 patient beds, of course, to the city's healthcare facilities, compounding an already living and breathing nursing shortage. But it's not as if 5700 nursing jobs are posted in Houston. MedHunters.com posts 97 open RN jobs right now in metro Houston and most of those are for Med/Surg RNs—oh, and candidates must be "able to write and speak effectively in English."(3) That sinks the notion of plugging in a boatload of fresh Chinese nursing grads.(4)
…If new nursing grads was the real problem in the first place.
Fewer jobs for new nursing grads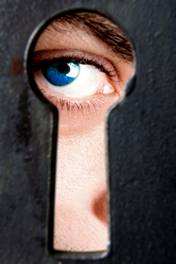 In nursing forums across the web more than a few new nursing school grads have been expressing frustration since early Fall at what would seem to be a hiring shut-out. (5) Fewer hospitals, it would seem, are opening their units to inexperienced new RN graduates. These next-gen RNs are perplexed about the alleged nursing shortage, as well, particularly in an industry that drew them into schools with open and exuberant arms in the first place, an industry that claims it can't get enough of new nursing grads. To quote one of these bamboozled grads, "What gives?"
Here's one version of an answer: Apparently some hospitals and healthcare facilities have, instead of hiring new nursing grads, managed to inspire experienced nurses to stay on staff, work overtime, or they have otherwise leveraged/manipulated their human resources.(6)
That's a lot of overtime. What about quality of care? What about the cost of paying experienced nurses for overtime? Let's see, those 5700 needed RN jobs in Houston – subtract the 97 actually posted – let's just say 5600 jobs, equals roughly 201,600 overtime hours per week (5600 nurses x 36 hours). Really, are experienced RNs working those apparently needed hours in patient care? Have you heard this excuse, too: would rather hire experienced nurses or retain staff versus spending the money to orient and train new grads. But don't new grads also come with some much-needed high-tech savvy in a career circle heavy with older nurses with little tech know-how? And time spent orienting is an up-front investment. Can you say, "Mixed messages"?
In some circles, the word in healthcare is "hiring freeze."
Quietly and without much ado more than a handful of hospitals and healthcare facilities across the country have gone on hiring freezes. The term "hiring freeze" is characteristic of economic direness. It says, "We are not as solvent as you think. We need to shut the gates here and now." Even one of the most "recession-proof" nursing niches, travel nursing, has been recently affected. In mid-summer 2008 a few news headlines reported that travel nursing jobs were unaffected by the stock market storm. Now it's clear that the number of jobs open to travelers has also dropped.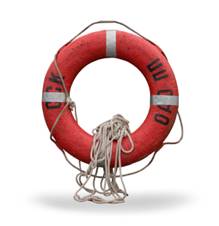 Have we bailed out the right industry?
Even travel nurses had sure-fire job insulation in difficult economies and could leverage bonuses and bigger hourly earnings. Most could continue to move around the country with ease, slipping into "hot jobs" in many regions. But just before the holidays some of those positions seemed to disappear as well. Unless you travel bi-coastal and to major spots like California, Florida, and New York the numbers of open jobs for travelers has dwindled.
But if you think the life of a travel nurse is all glory and bigger cash bonuses, on any given day it's also a career track strewn with potential roadblocks and booby-traps constructed of red-tape.
The Red-Tape That Binds
Nursing licenses are a necessity, but for travelers they can be a nightmare. Getting a nursing license into your hand anywhere in under 2 weeks is unheard of, except for a handful of "walk-through" states—where if you're already a licensed RN elsewhere you do have the option to simply show up at the state board of nursing and walk through the licensure process on the spot. But those states are few and far between.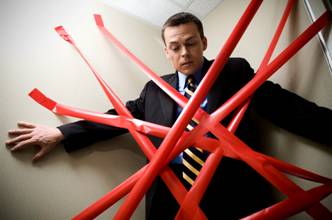 Right now 23 states belong to the Nurse Licensure Compact (NLC) program – if you hold a license in one then you are as good as licensed in all of them. It's a sensible situation and allows travelers to have great mobility among the 23. But if you're a nurse and eager to take a travel assignment in a state outside the NLC—for example, California, Florida, or New York (ironically, the bi-coastal states with the most travel needs)—then you need to apply directly to that particular state's board of nursing for licensure. Each state's licensure costs anywhere between $90 and $250 depending and takes at a bare minimum 2 weeks to secure. Forget about online applications or expedited anything—here is the real nitty-gritty of bureaucratic red-tape; "think" DMV. If there's a paperwork snafu with a new license expect the delays involved in the back-and-forth of snail-mail to gum up the process, as well. In fact, you'd never know there was any urgency whatsoever to get qualified nurses on the job based on the machinations of the state nursing boards.
Orientation or Set-Up for Failure
Once travel RNs have an assignment secured, orientation to work units is completely ad hoc—some units and hospitals require travelers to engage in 2-week formal orientations including intensive intros to complex electronic charting, while others offer a meager 12 hour on-the-job wham-bam-thank-you-ma'am introduction and a handshake for good luck. So as much as travelers are maligned in some hospital units because they "earn too much money," they must quickly hit the ground, blend with regular staff, and pull all their most essential survival skills together, and they rarely know what type of work situation into which they might be walking their first day or night on the job. Plus, they've had to deal with some recruiters whose bottom line is no different from that of a used car salesman.
Have we given big breaks to the wrong professionals?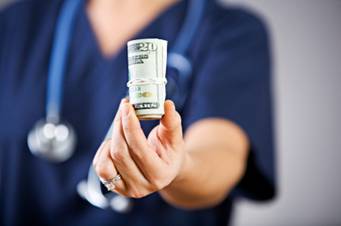 That brings us back to recession, Big Business and industries that apparently are more deserving of economic stimulus, shall we say, than is Healthcare and nurses.
So which is it: Do we need nurses or not, already?!
For many professional nurses the two big components that would infinitely enrich their careers are salary and staffing levels: money and morale, both validating the essential importance of NURSE in our society and healthcare fabric. The December 2008 issue of the magazine Advance for Nurses (Southeastern States) featured an annual What Makes Nurses Tick survey. When asked, "What would you change about your job tomorrow if you could?" 36% of RNs said they'd change their salary, followed on the heels by 32.8% that would change workload. (8) If you can't provide monetary reward, then how can you possibly eliminate adequate staffing, too?
Our American choices indicate our level of insanity—repetition of the same behaviors over and over with the expectation of different results.
The totally ridiculous solution to the problem:
Nurses, rally your forces, become a major stakeholder in one of the Big 3 Automakers or the CEO for a major insurance corporation. Bail-out-- a fail-safe sure-thing.
1 Nursing Shortage: How it May Affect You, ABC News
2 Houston Business Journal
3 Medhunters.com
4 "New Program Seeks to End Nursing Shortage and Improve Real Estate Values in US," Marion Specter, December 18, 2008, Nursing World.
5 Nurse.com
6 New Nurse, New Job Strategies, Cardillo
7 Advance for Nurses, December 2008
Get Your Free Information on Nursing & Healthcare Programs
Find Your Healthcare Degree Fast