GCU's Traditional and Online Programs Offer Best of Both Worlds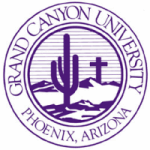 School Overview
Serves:
USA
Accredited by:
CCNE
Enrollment:
Semesters
Financial Aid:
Yes
Scholarships:
Yes
University Founded on Christian Principles
Private, accredited, Christian-based Grand Canyon University provides traditional and online students with a range of degrees in education, nursing, and business. Founded in the late 40s, Grand Canyon began its success as a teachers college. Over the years it's expanded to include undergraduate and graduate business degrees, as well a dozen or so in the general arts and sciences.
Traditional Campus
GCU is founded on Christian principles, but delivers contemporary and cutting edge curriculums to students of all types and from all backgrounds. The traditional campus is located in Phoenix, Arizona, but the institution has become much more recognized for its sophisticated distance learning programs.
Academic schools deliver both face-to-face programs as well as the online curriculums: Ken Blanchard School of Business, College of Nursing and Health Sciences, College of Education, and the College of Humanities and Social Sciences. The campus provides a cutting-edge, newly renovated higher education space in which Christian students may study and worship within a learning environment driven to prepare tomorrow's Doers and Thinkers.
GCU Online
Distance learning has been the primary vision of colleges whose mission it is to reach a wider audience, especially the population of working professionals with little time to attend traditional campus programs. Undergraduate campuses like GCU's may have limited resources available for grad programs, but online environments make even complex assortments of grad degrees a possibility. GCU's online programs are geared toward graduate level professionals with career-driven goals, but who need flexible and relevant curriculums that allow them to micro-specialize in their fields.
The nursing program includes a RN to BSN undergraduate program, as well as two Masters of Science in Nursing (MSN) specializations: MSN in Nursing Education and MSN in Nursing Leadership in Health Care Systems. Via online curriculum management systems, participants learn in an asynchronous environment. They self-schedule study time, communicate virtually with classmates, and even take tests online. But GCU courses are structured and run on two-month timelines, so students must keep abreast of coursework to be successful in their degrees. The Commission on Collegiate Nursing Education accredits GCU's nursing program.
The online college is one of the best ranked among private distance learning institutions and has been instrumental in growing the reputation of the Phoenix campus. Over 11,000 students-many of them active in the online program-attend GCU.


Bachelor's Nursing Degree Programs
Master's Nursing Degree Programs
Get Your Free Information on Nursing & Healthcare Programs
Find Your Healthcare Degree Fast