Purdue University Global: Online Professional Programs for Adults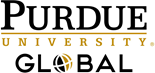 School Overview
Serves:
Worldwide
Accredited by:
HLC
Enrollment:
Quarterly
Financial Aid:
Yes
Scholarships:
Yes
Basic Level Nursing Degrees and Niche-Specific Certificate Programs
Purdue University Global's online degree programs encompass dozens of specialized curriculums. Degrees include professional certificate, Associates, Bachelors, and Masters. The schools include Business, Information Systems and Technology, Arts and Sciences, Health Sciences, Legal Studies, Criminal Justice, Education, and Nursing. There are also continuing studies programs that provide professional level certificates in sub-specialties. Concord Law School belongs to KU and is purportedly one of the most well known online law schools. The Distance Education and Training Council accredits Concord.
Purdue University Global Nursing Degrees
The Nursing school at Purdue Global focuses on the nursing essentials, a RN to BSN degree program and Nurse Assistant Prep certificate. Forensic Nursing and Legal Nursing courses are offered as professional certificates, intended to be the capstone to degree work already completed and as continuing education training. Professional nurses have little time to spare with traditional campus degrees; they must have the convenience of online programs if nursing, as a whole, is to grow.
The public research university was founded on May 6, 1869 & the main campus is located in West Lafayette. The school has over 70,000 combined students across their campus-based and online courses. The Higher Learning Commission accredits Purdue's general online curriculums, but the Commission on Collegiate Nursing Education accredits the RN to BSN program.
History
Purdue University Global was created in April of 2018 after the college acquired Kaplan University. Kaplan's origins lie in the American Institute of Commerce, established in 1937. Since that time Kaplan has been committed to delivering innovative and solutions-based educational programs for adult learners. In the last couple of decades, adult education, beyond that of community based, general interest, has skyrocketed. Higher education now knows the value and volume of professionals that require advanced training, either for career advancement, continuing education, career/life change, or sheer personal enjoyment.
Online or distance education, offers adults the freedom to study when and where they wish, and at their own pace. Students participate in real-time discussion, as well as off-line learning environments.


Nursing Certificate Programs
Get Your Free Information on Nursing & Healthcare Programs
Find Your Healthcare Degree Fast