Fixing U.S. Health Care System
Blast Through the Obama & McCain Healthcare "Policy" B.S.
10 Blog Posts You Must Read Before You Go Into a Voting Booth in November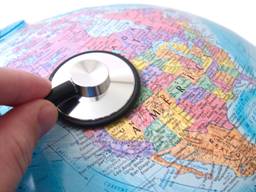 You're going to vote in less than 3 weeks and you could really know nothing of the Healthcare state of emergency in this country—America, land of the free, best country on Earth, yadda, yadda, yadda. You don't know the truth because the candidates left standing have strategically and purposely refocused your attention onto other issues. Why? Their little secret is that neither has an answer that will work and they can't tell you that.
Where can you get a real, unvarnished perspective on our healthcare system, and fast?
Further down in this article you'll find links to 10 blog-posts you must read before you go into a voting booth next month. I'll warn you: these are bloggers without fear, unlike the candidates. They are not politicians and the Oval Office is not at stake. But first, let's blast through some of the b.s. that both Obama and McCain have dished out.
What the Polls Say About How You'll Vote
Over and over American voters have responded throughout 2008 that healthcare is significantly of less importance in their impending decision for next President. Economy and jobs, the War in Iraq, and gas prices, all consistently outrank HEALTHCARE in voter polls. Why?
Perhaps—and this is just anecdotal—we are a people most attentive to immediate gratification. This means that unless you are among the ill and infirm, healthcare is not necessarily immediate—perfect for the candidates; they can build buzz for other things like gas prices that sting you everyday.
Economically we've witnessed a sublime compliment of events in the last couple of years, including the real estate crash, rampant foreclosures and the most recent Stock Market free-fall. Naturally, the economy has commanded our attention. Unraveling our American healthcare issues unleashes an entire Pandora's Box of immediate emergencies, not the least of which is the national nursing crisis. Neither of the leading presidential candidates is seriously taking on the challenge. As far as the nursing shortage goes, a strategy focused on a front line of new nurse faculty is not the real solution, either.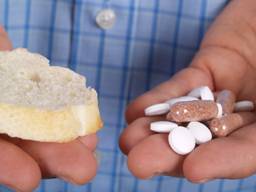 47 Million Americans Slapped in the Face
John McCain stood up in Iowa last November and said, "The problem is not that most Americans lack adequate health insurance. The vast majority of Americans have private insurance…." These statements, first, completely turned a blind eye to the skyrocketing numbers of Americans losing their health insurance, and second, summarily discounted between 37 and 47 Million already uninsured Americans, the number kept muddied thanks to Right Wing-Left Wing bickering. Regardless, it's a number that dwarfs the 2.3 million home foreclosures so far this year, which we use as one of the biggest mileage markers on the economic highway.
And while it might be easier to imagine the "uninsured" in the guise of the poor and destitute, the real picture of un-insurance in this country includes a startling population of middle American workers AND their children. They must either pay out of pocket, avoid care altogether, opt for accessing care via the most stressed of facilities—the nation's Emergency Departments—or they must be willing to go to the local public clinic where nursing and physician human resources are two of Healthcare's emergency cases.
And as quickly as American citizens lose their insurance the cost of private insurance premiums climbs as well.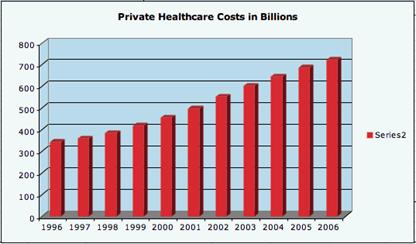 *source U.S. Census Bureau
What historical profiteer dreamed up the concept of medical insurance anyway? Here's a brief and essential history of the American health insurance scam system.
The Immediate Emergencies in Our Healthcare System
Here are the likeliest options for the next 4 years in our nation's healthcare history:
McCain with his distinctly Republican laissez faire healthcare proposal
Obama with his Democratic pitch for universal healthcare
Without a doubt it will be the same ear-popping, hairpin curves we've traveled for the last century. This time, around though, the components of the healthcare malaise are different, as a group they are as potentially potent and dismissed as an Apocalyptic alignment of the planets:
Nursing shortage: 587,000 new needed by 2016
Physician shortage: expected, indeterminate
Uninsured Americans: 47 million
National healthcare costs: $2.1 trillion/yr
Employment-based healthcare: 9% drop since 1996
Healthcare premiums, annual growth: outpacing wage increases x 3
Long-term care: growing need
U.S. life expectancy: 77-80 years of age
U.S. population: 305.4 Million
Median Income: $46,000
Who is really running the healthcare show?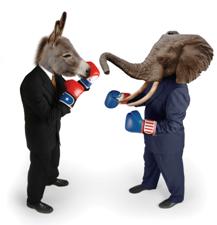 It's not the 2.4 million registered nurses, and data shows the number of physicians making a case on Capitol Hill has dropped. These are the healthcare professionals that really have our best interests in mind. If they are not in control, then who is? Are we leaving the sheep in the care of the wolves?
A Dangerous Pack of Healthcare Lobbyists
According to a report by Case Western University the richest group of lobbyists in Washington is Big Healthcare.
Top healthcare lobby groups:
1. Pharmaceutical corporations $96 Million
2. Physicians/health professionals $46 Million
3. Hospitals/care facilities $40 Million
4. Health insurance companies/HMOs $31 Million
5. Public health $12 Million
Big Pharma pours twice as much cash into its lobbying efforts as the next closest group. Hey, did you guys hear about the 47 million uninsured Americans?
The Other Candidates
There ARE other candidates and alternative parties in the running, including the Greens, Libertarians and Independents. Some say Fred Thompson – remember him?—was THE candidate for real healthcare change, brass tacks and realism. We know where that got him. But his campaign was not some adrenaline-charged pep rally, either.
And in a rare, but timely, survey of the nation's RN workforce, Registered Nurses' Perspectives: Health Care and the 2008 Presidential Election, it was clear this large population of healthcare professionals--with troubles of its own-- had put its confidence overwhelmingly in Hillary to bring sense to the American healthcare system. That was back in April.
Obama-Biden or McCain-Palin: that's what we have been left with and one of these teams will get the keys to the Office. Frankly if either were an insurance company I'd run the other way.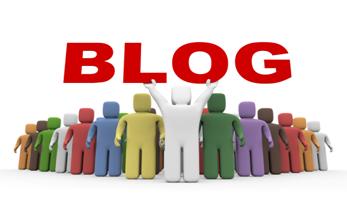 The 10 Blog Posts—A Pre-November 4 Reading List
Warning: The following posts are innovative, unflinchingly realistic and even outrageous. Read them as if your life depended upon it. Bookmark or email them to a friend. Herein lies grassroots politics, real dialog and idea exchange too easily buried under our current hollow Healthcare rhetoric:
1. Six Dirty Little Health Care Secrets, written and posted in October 2006 by Matthew Holt. This deserves to be re-circulated, and lightning-fast.
2. Retail, written by Non-Traditional Doctor in Training. This September 2008 post enthusiastically explores an innovative and honestly affordable retail clinic model, which includes new roles for Nurse Practitioners and Walgreens pharmacies. Here is a practical, viable market response to the healthcare system failures.
3. Health Care Like the DMV, written by bart at the Laissez-Faire Healthcare Blog in a December 2007 post. A candid and illustrative interpretation on the universal health plan from the keypad of a staunch free-market supporter.
4. Creative Responses to the Nursing Shortage, written and posted by NurseKeith on NurseConnect. He examines a few of the current grassroots efforts being utilized to stem the nursing crisis. Realistic and practical solutions, without fluff or sarcasm.
5. A Blueprint for Healthcare Reform, written and posted by Maggie Mahar in February 2008. Find out where the system totally "squanders" your money.
6. 9 months to birthing my bestseller…, posted by Adrienne Zurub in September 2008. Here is a slightly outrageous and totally irreverent article that rolls together current healthcare reform and the nursing crisis.
7. Return of the Mack, from the Hotline on Call blog. Politicians and healthcare lobbyists--perennial bed-fellows.
8. This Week in Insurance Company Rules a post by Bill Sher on Blog for Our Future; includes the radically inventive and funny video (a must-see), "Insurance Company Rules."
9. They Hide it So You Won't Know, posted at Home of the Brave by Annie on September 30, 2008.
10. An Open Letter to Barack Obama and John McCain, posted in September on Kevin, M.D.-Medical Weblog. A sharp and thoughtful rebuke; underscores some of the real issues overlooked by the candidates.
Read the Candidates' Healthcare Platforms direct from their campaigns:
We are shocked when a foreclosure sign goes up nearby or the home down the street is vacated in hopes that it will sell and soon. Signs hammered into the ground and moving trucks put it in our faces. Lose your health insurance and it goes largely unnoticed. Shelter is a basic human need and the promise of homeownership for all has been a modern and bipartisan government goal since the 90s. But what about health insurance for all? Should not our healthcare be as secure a container for our well-being as our homes? What's missing is a Healthcare Foundation built on trust. We can only hope that when the next guy gets the keys to The Office he'll finally tell it like it is.
On November 4…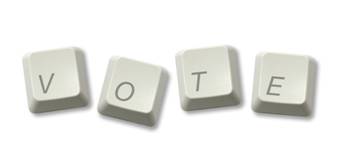 Find Your Healthcare Degree Fast