Certified Nursing Assistant Degrees
At the forefront of modern nursing care, the Certified Nursing Assistant (CNA) is responsible for many basic patient care services. Working under the supervision of a nurse, they assist with personal hygiene, helping patients to eat and with assisting nurses in their duties, such as setting up or monitoring medical equipment and checking patient vital signs. Because of their close contact with patients, they can also be a valuable source of information to nurses and doctors as to the current condition of the patient.
While this may not be the most glamorous position in the health care field, working as a CNA can be the first step into a nursing career. By providing the needed experience in the health care filed, it may help the CNA to decide on a future career course. On the other hand, many Certified Nursing Assistants find a great deal of joy and satisfaction in the work and continue as CNAs for many years.
Certified Nursing Assistant Training
The first step to becoming a CNA is to go through an eight to twelve week training program, followed by a two part examination that consists of a written exam and a demonstration of practical skills. The training portion consists of classroom studies that cover basic nursing skills, infection control, disease prevention, nutrition and some basic anatomy and physiology. There is also a clinical component which allows students to get sufficient practical experience in these areas.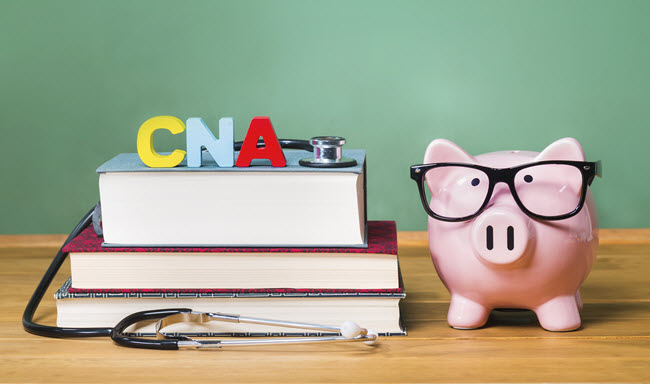 Certified Nursing Assistant Schools
There are a wide variety of options to obtain the training necessary to pass the exam and begin working as a CNA. Virtually all of them have both a classroom and clinical component. They generally last from eight to twelve weeks. Additionally, there are a number of sources for assistance and practice tests to help prepare for the CNA certification exam.
On source for training can be found online. This distance learning can have many practical aspects. Students may not have nearby access to a more traditional CNA program. Some online programs can be completed at the student's own pace, which allows working students to complete the course without having to miss either work or classes. Some programs can be started at almost any time, eliminating the need to wait for the next class to start. However, it is important to verify all requirements, especially as to how the clinical portion of the program will function, as it isn't possible to get the needed hands-on experience through the Internet.
Many community colleges and technical schools also offer Certified Nursing Assistant programs. These can be a convenient source of training if one is nearby.
Additionally, some healthcare facilities offer training courses, especially those in high demand areas. Some of these institutions may even offer this training at no charge, possibly for a commitment to work at the institution after certification. In this way, these facilities work to fill their own demand. This may also be more convenient as much or all of the clinical component can be obtained right at the facility. Some hospitals may also offer courses, although this seems to be increasingly rare.
The Certified Nursing Assistant Examination
Once the coursework and clinical component have been completed, it is still necessary to pass an exam in order to obtain the nursing assistant certification. The exam consists of two parts. First is a multiple choice written exam. There are sources of help for preparing for this examination, in the form of more review or even practice questions.
There is also a clinical skill test. The applicant will generally be asked to provide a friend to act as model as the applicant performs from three to six basic skills under the watchful eye of an examiner. Many find that having the examiner watch their every move can be a bit disconcerting, but this is a vital part of the certification process. Going over the skills learned in the clinical portion of training, as well as practicing them with the volunteer, can help to calm the nerves.


The Benefit of the Certified Nursing Assistant Program
Becoming a CNA will become the lifetime career for some. For others, it is one step on the path to a future nursing career. In either case, becoming a CNA can provide a good, quick entry point into the field of nursing. It will also provide valuable nursing experience which may be of benefit in obtaining future nursing jobs, especially in some of the more competitive areas of nursing.
The first step is to find an appropriate Certified Nursing Assistant school.
Get Your Free Information on Nursing & Healthcare Programs
Find Your Healthcare Degree Fast