Alabama Nursing Schools
Campus-based Education Programs and Jobs for Nurses
Like other states, Alabama is keen on attracting and keeping nursing students. Study or take a nursing job in Alabama and you're in the deep south'sultry summer nights and sweet tea. History buffs might appreciate this state's contribution to the history books: Alabama was a main stage during the Civil War as it was during the Civil Rights era.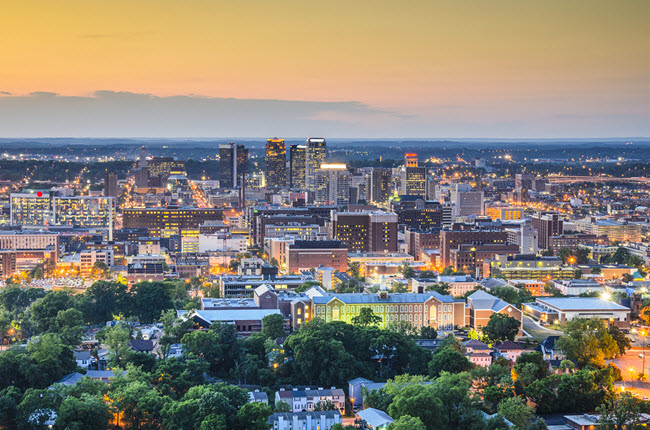 Birmingham is the largest metropolitan area in the state, but Montgomery is the capital. The climate is temperate and the geography coastal to mountainous with a vast in-between of rolling hills. The economy is divided between high-growth business, including healthcare; and agriculture.
Needed: Nurses in Alabama
Everywhere nursing faculty is a primary requirement, without them there is little chance to make headway on the nursing shortage, but RNs, LPNs and advanced practice nurses of all specialties are invited. A number of large state universities offer both campus-based as well as online nursing degrees. This way they reach out to a larger audience and quite possibly secure a new front-line of nurses for hospitals in the state.
Alabama resident students: choose between in-state online nursing degree programs or a wide range of programs offered at a distance. This is the true beauty of online learning. Which degree should you pursue? Associates, Bachelors and Masters degrees are all available online and in a dizzying array of specialties. Don't limit yourself. Nurses with a mere two years of distance education may land hot jobs at very good hospitals and clinics.
Getting Repaid for Your Education and Hard Work
The Nursing Education Loan Repayment Program (NELP) is a government-based program that provides incentive to nurses willing to work in underserved facilities across the nation, including Alabama. Qualified nurses with outstanding student loans may exchange service for up to 60% in student loan repayment.
Alabama Nursing Jobs
Of course most Alabama major metropolitan areas are in dire need of nurses, but many smaller communities hurt for help as well. Fresh nursing grads: shop for attractive sign-on bonuses or choose a locale that best suits your interests and lifestyle.
Major employers for nurses in Alabama include Baptist Health System in Birmingham, Baptist Health in Montgomery, and St. Vincent's Health System in Birmingham and other locations. For adrenaline junkies, the University of Alabama — Birmingham hospital is a Level 1 Trauma Center and one of the state's most prolific employers. HealthSouth is another large nurse employer, also located in Birmingham.
State Nursing Associations that provide news, job boards, and industry-specific information include: the Alabama Board of Nursing and the Alabama State Nursing Association.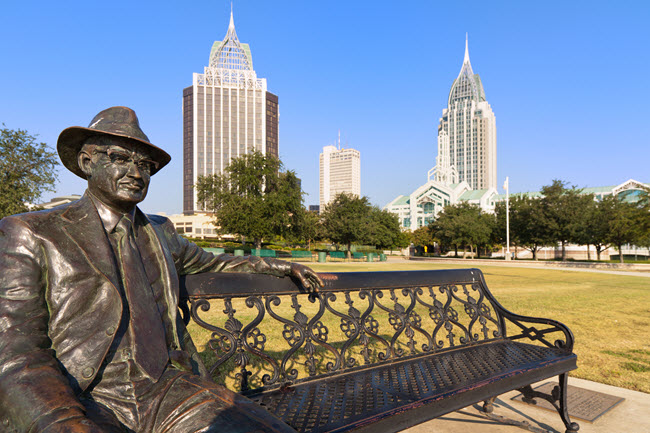 Use our list of Alabama Nursing Schools to find a good campus-based program in the state. A few also offer select online options. Don't limit yourself to this list, though'search our online nursing schools — all are an option for students studying just about anywhere in the country.
For information on nursing licensure visit the Alabama Board of Nursing.
Alabama Nursing Programs Offering Some Online Education Opportunities
University of Alabama — Huntsville
CCNE Accredited
University of North Alabama — Florence
CCNE Accredited
University of South Alabama — Mobile
CCNE Accredited
Search our big list of online nursing schools that offer many more education opportunities.
Campus-based Alabama Nursing Schools
Auburn University School of Nursing
CCNE Accredited
Bevill State Community College — Jasper
Health Sciences
NLNAC Accredited
Bishop State Community College — Mobile
Division of Health Professions
NLNAC Accredited
Calhoun Community College — Decatur
Nursing Department
NLNAC Accredited
Central Alabama Community College — Childersburg
NLNAC Accredited
Chattahoochee Valley Community College — Phenix City
Health Sciences Division
NLNAC Accredited
Faulkner State Community College — Bay Minette
Nursing Department
NLNAC Accredited
Gadsden State Community College — Gadsden
NLNAC Accredited
George C. Wallace Community College — Dothan
NLNAC Accredited
H. Councill Trenholm State Technical College — Montgomery
NLNAC Accredited
Herzing University — Birmingham
Jacksonville State University — Jacksonville
CCNE Accredited
Jefferson Davis Community College — Brewton
NLNAC Accredited
Jefferson State Community College — Birmingham
NLNAC Accredited
Lawson State Community College — Birmingham
NLNAC Accredited
Northeast Alabama Community College — Rainsville
NLNAC Accredited
Northwest-Shoals Community College — Phil Campbell
NLNAC Accredited
Oakwood College — Huntsville
Samford University — Birmingham
CCNE Accredited
Shelton State Community College — Tuscaloosa
NLNAC Accredited
Southern Union State Community College — Valley
NLNAC Accredited
Spring Hill College — Mobile
CCNE Accredited
Troy State University — Troy
NLNAC Accredited
Tuskegee University — Tuskegee
NLNAC Accredited
University of Alabama — Tuscaloosa
CCNE Accredited
University of West Alabama — Livingston
NLNAC Accredited
University of Alabama — Huntsville
CCNE Accredited
University of Alabama — Birmingham
CCNE Accredited
University of Mobile — Mobile
CCNE Accredited
University of North Alabama — Florence
NLNAC Accredited
University of South Alabama — Mobile
CCNE Accredited
University of West Alabama — Livingston
NLNAC Accredited
Wallace State Community College — Hanceville
NLNAC Accredited
Get Your Free Information on Nursing & Healthcare Programs
Find Your Healthcare Degree Fast