Nursing Schools in the District of Columbia
Get Yourself Trained as an RN in DC
DC is one of the most condensed metro areas of the country but here, crowded into a small plot of land, are a few excellent brick and mortar nursing programs. When you launch an all out search for a nursing school, keep a few things in mind: short-term goals, long-term career goals and mind wide open for options. In the 21st century, nurses are in command.
What you'll find among this region's nursing degrees:
Keep Your Eye on the Goals
And there's more being built in to a nurse's education all the time. Truth is nursing schools offline and online are on a fast-track of their own. They have to be in order to attract the volume of new nurses needed to fill vacant positions AND to offer experienced and working RNs something to get out of bed for in the morning — vertical upward career movement in the form of challenging, better paying and more autonomous endeavors.
When you settled on nursing you likely had a couple of hard and fast goals in mind that you need to keep front and center when exploring degree and school options: first you hopefully have chosen the profession because you have that calling to care for others. Second, the industry is one of the most guaranteed for job security, for all types of individuals, and lastly it pays fairly solid salaries that are usually bundled with big benefits packages.
Salary and Job Check
For example, in DC the bulk of staff RNs average between $60,000 and $72,000 — that's about $10,000 higher than those in many other regions of the country.* Why? Major metro area, our nation's capital, big-time hospitals and healthcare facilities and lots of options for entry level as well as pro RNs.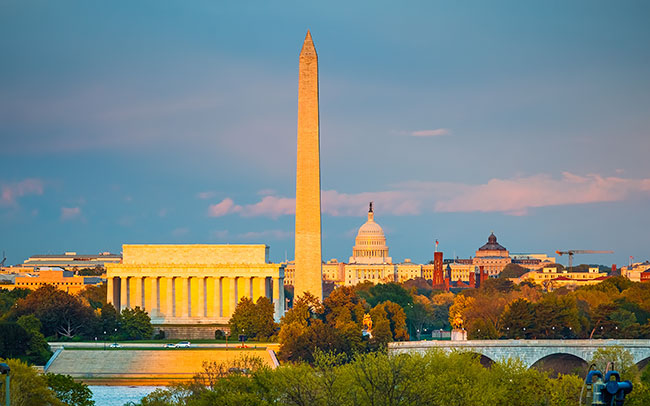 While you explore your education options and mull over your career goals, don't forget to check out the online education selection. No roads, no gas to put in your car, no need to leave your house when you study online. Most programs are carbon copies of their on-campus curriculums and many are taught by the same faculty.
For information on nursing licensure in the DC area visit the District of Columbia Board of Nursing.
Nursing Schools in DC that Offer Online Degrees
George Washington University
University Medical Center Health Sciences
CCNE Accredited
Search our big list of online nursing schools for more options in distance education.
Campus-based Washington DC Nursing Schools
The Catholic University of America
School of Nursing
CCNE Accredited
Georgetown University
School of Nursing and Health Studies
CCNE Accredited
George Washington University
CCNE Accredited
Harrison Center for Career Education
NLNAC Accredited
Howard University
Division of Nursing
CCNE Accredited
Trinity University
CCNE Accredited
University of the District of Columbia
Department of Nursing
NLNAC Accredited
*source, Salary.com
Get Your Free Information on Nursing & Healthcare Programs
Find Your Healthcare Degree Fast