Florida Nursing Schools
Hit the Clinicals in the Sunshine State
Florida has one of the larger collections of nursing schools, good news if you're shopping for a campus-based program. Guess what? Right now is one of the best times in history to get on board the nursing industry: shortages exist everywhere, which means you can almost write your own ticket if you play your cards right, and in response to those historic shortages, online and offline colleges are throwing up some serious degrees and looking ahead to the day when nurses are key and powerful players at every stage in healthcare.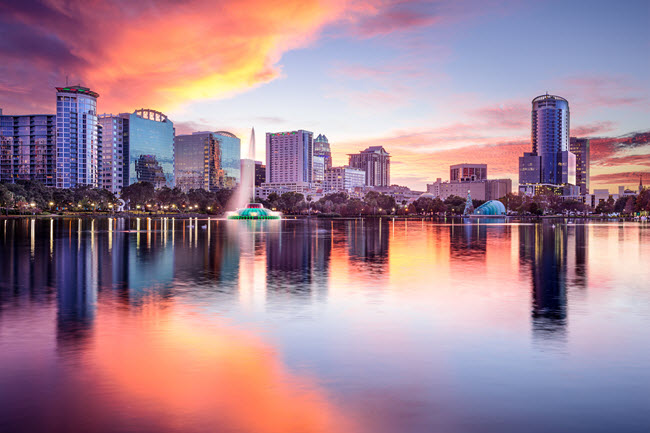 Whether you're fresh out of high school and looking for your first degree, a seasoned professional RN with higher dreams, or a career changer-now's a great time to be a nurse.
Consider These Factors
Here are a few factors to keep uppermost in your mind while you play the pros and cons game over nursing schools: it will matter to you at some point how much you earn at your job. Salary will be dictated by zip code, the healthcare facility in which you take a job, the need of that facility, your level of experience and your practice specialty if you have one.

In most of the major metro areas in Florida, the largest number of staff RNs earn between $52,000 and $65,000,* but again, outliers exist to either side of that spectrum. In Florida you can make your salary sing if you choose a "hot" travel assignment, work per diem for a period of time, or put yourself on the list for overtime and extra work shifts.
Don't Let Offline Schools Limit Your Choices
Don't get lost in trying to pin down a campus and program convenient to your house or apartment-remember, nursing degrees are abundant in online format, as well. Truth is the demand for convenience on the part of students and working adults, in addition to the demands on schools to draw more students, has driven up the number of online nursing degrees. Many of the best brick and mortar nursing schools in the country have created innovative, top-shelf nursing degrees and professional programs that are nearly identical to their already stellar on-campus curriculums. Online education options span from diplomas, ASN, BSN, MSN, graduate certificates and even Ph.D programs.
For information on state nursing licensure requirements visit the Florida Board of Nursing.
Nursing Schools in Florida Offering Online Degrees
Jacksonville University
CCNE Accredited
Keiser University
NLNAC Accredited
Rasmussen College
Nursing School
University of Phoenix
CCNE Accredited
Search our big list of online nursing schools for more options in distance education.
Campus-based Florida Nursing Schools
Barry University — Miami Shores
School of Nursing
Bethune-Cookman College — Daytona Beach
Division of Nursing
NLNAC Accredited
Brevard Community College — Cocoa
Broward Community College — Coconut Creek
Center for Health Sciences
NLNAC Accredited
Central Florida Community College — Ocala
Health Occupations Division
NLNAC Accredited
Concorde Career Institute
Daytona Beach Community College — Daytona Beach
Nursing Department
NLNAC Accredited
Edison College — Fort Myers
Department of Nursing
NLNAC Accredited
Everest Institute — Miami
Florida A&M University — Tallahassee
School of Nursing
NLNAC Accredited
Florida Atlantic University — Boca Raton
College of Nursing
CCNE Accredited
Florida Community College — Jacksonville
Nursing Department
NLNAC Accredited
Florida Gulf Coast University — Fort Myers
College of Health Professions, School of Nursing
CCNE Accredited
Florida Hospital College of Health Sciences — Orlando
Florida International University — North Miami
College of Health and Urban Affairs, School of Nursing
CCNE, NLNAC Accredited
Florida Southern College — Lakeland
CCNE Accredited
Florida State University — Tallahassee
College of Nursing
CCNE Accredited
Florida Technical College — Lakeland
Galen Health Institutes
Gooding Institute of Nurse Anesthesia — Panama City
Bay Medical Center
Gulf Coast Community College — Panama City
Division of Health Science
NLNAC Accredited
Herzing University
Hillsborough Community College — Tampa
Division of Health, Wellness and Sport Technologies
NLNAC Accredited
Indian River Community College — Fort Pierce
NLNAC Accredited
Jacksonville University — Jacksonville
School of Nursing
CCNE Accredited
Keiser University — Tallahassee
NLNAC Accredited
Lake City Community College — Lake City
Allied Health/Nursing
NLNAC Accredited
Manatee Community College — Bradenton
Division of Nursing & Allied Health Sciences
NLNAC Accredited
Manatee Technical Institute — Bradenton
MedVance Institute — Miami
Mercy Hospital — Miami
School of Practical Nursing
NLNAC Accredited
Miami Dade College — Miami
School of Nursing
NLNAC Accredited
Miami-Dade County Public Schools — Miami
NLNAC Accredited
Nova Southeastern University — Fort Lauderdale
Department of Nursing
CCNE, NLNAC Accredited
Palm Beach Atlantic University — West Palm Beach
School of Nursing
CCNE Accredited
Palm Beach Community College — Lake Worth
Nursing Department
NLNAC Accredited
Pasco-Hernando Community College — New Port Richey
Nursing Department
NLNAC Accredited
Polk Community College — Winter Haven
Department of Nursing
NLNAC Accredited
Santa Fe Community College — Gainesville
Nursing Programs
NLNAC Accredited
Sarasota County Technical Institute — Sarasota
School Board of Broward County — Fort Lauderdale
NLNAC Accredited
Seminole Community College — Sanford
Department of Nursing
NLNAC Accredited
South University — Tampa
CCNE Accredited
St. Petersburg College — Pinellas
Nursing Department
CCNE, NLNAC Accredited
University of Central Florida — Orlando
College of Health and Public Affairs, School of Nursing
CCNE Accredited
University of Florida — Gainesville
College of Nursing
CCNE Accredited
University of Miami — Coral Gables
School of Nursing and Health Studies
CCNE Accredited
University of North Florida — Jacksonville
College of Health, Department of Nursing
CCNE, NLNAC Accredited
University of Phoenix
CCNE Accredited
University of South Florida — Tampa
College of Nursing
CCNE Accredited
University of Tampa — Tampa
Department of Nursing
NLNAC Accredited
University of West Florida — Pensacola
Department of Nursing
CCNE Accredited
Valencia Community College — Orlando
Health Related Programs
NLNAC Accredited
Virginia College — Pensacola
*Salary.com
Get Your Free Information on Nursing & Healthcare Programs
Find Your Healthcare Degree Fast