Kansas Universities and Colleges for Nursing Programs
Search Campus-based and Distance Degrees
Across Kansas jobs for nurses, especially RNs, are increasing at a breakneck pace. This means the heat is on to prepare many more well-trained LPNs and RNs. At the same time nursing retention is a hot-button issue, which means hospitals are encouraging mid-career nurses-those that are most likely projected to leave the industry-to pursue advanced specialties in the field, such as administration, practitioner, legal nursing or nurse education.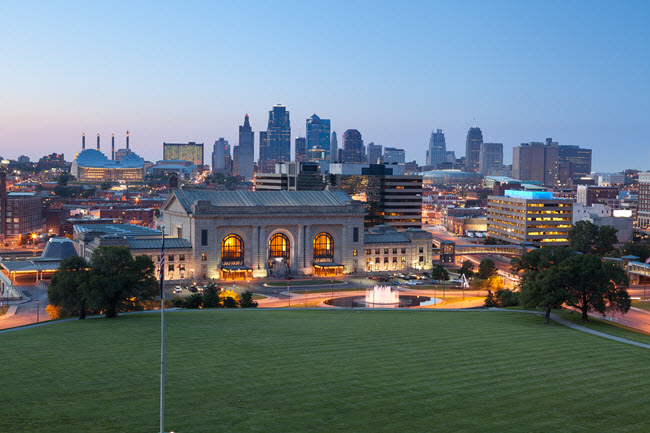 Schools and Types of Degrees Open to You
Over 40 schools--universities, 4-year colleges, 2-year community colleges and technical/vocational schools--provide nursing education to new students and experienced nurses in Kansas. Here's the type of programs you'll find: diploma (uncommon today), practical nurse program, BSN, RN-to-BSN (a very popular fast-track), MSN and even nurse PhD. Search the list below-you'll find just about any kind of nursing degree you could imagine.
If a campus-based degree is inconvenient then don't miss the big list of online nursing schools. The cool thing about learning online is you study on your schedule, so you can keep pace with work, family and social demands on your time. And you don't sacrifice quality when you opt for a distance degree, in fact you get close to a carbon-copy of the campus program and in many cases the same faculty guidance.
Advanced Practice Benefits for Experienced RNs
Advanced practice degrees like nurse practitioner, nurse midwife and nurse anesthetist are can't-lose ways to recreate a "stuck in a rut" career. Realize though that particularly the midwife and anesthesia programs are not conducive to an online environment and programs are quite limited. BUT what you sacrifice on the front end for these high-end degrees is paid back many times over once you are in practice. For example, a nurse anesthetist salary in Kansas averages well over $125,000 annually! (1) This is THE most lucrative nursing job that exists, but the degree is intense, rigorous and not for everyone.
Salaries and Jobs for Kansas Nurses
So let's talk about what is for everyone. RN jobs abound. Hospitals remain the primary employer for professional nurses in Kansas and you have 59 (2) from which to choose located all across the state. The largest of these, of course, are in urban areas, such as Wichita, Topeka and Kansas City, where, by the way RN salaries will likely be a bit higher than those for RNs in more rural areas and working in smaller medical centers. In Wichita a staff RN on average earns between $52,000 and $64,000 (3), which is right up there with many other states.

For further information on the nursing profession in Kansas and getting a license, visit the Kansas State Board of Nursing.
Kansas Nursing Schools that Offer Distance Education Options
Fort Hays State University
Department of Nursing
CCNE Accredited
National American University
NLNAC Accredited
University of Kansas
School of Nursing
CCNE Accredited
University of Phoenix
CCNE Accredited
Search our big list of online nursing schools for many more distance education opportunities.
Campus-based Nursing Schools in Kansas
Baker University — Topeka
School of Nursing
CCNE Accredited
Barton County Community College — Great Bend
Nursing Education
NLNAC Accredited
Bethel College of Kansas — North Newton
Nursing Department
Butler County Community College — El Dorado
Department of Nursing Allied Health and Early Childhood Education
NLNAC Accredited
Cloud County Community College — Concordia
NLNAC Accredited
Colby Community College — Colby
Department of Nursing
NLNAC Accredited
Dodge City Community College — Dodge City
Department of Nurse Education
NLNAC Accredited
Emporia State University — Emporia
Newman Division of Nursing
NLNAC Accredited
Fort Hays State University — Hays
Department of Nursing
CCNE Accredited
Fort Scott Community College — Fort Scott
Department of Nursing and Allied Health
NLNAC Accredited
Garden City Community College — Garden City
Department of Nursing and Allied Health
NLNAC Accredited
Hesston College — Hesston
Department of Nursing
NLNAC Accredited
Hutchinson Community College — Hutchinson
NLNAC Accredited
Johnson County Community College — Overland Park
NLNAC Accredited
Kansas City Kansas Community College — Kansas City
Department of Nursing
NLNAC Accredited
Kansas Wesleyan University — Salina
Division of Nursing Education
NLNAC Accredited
Kaw Area Technical School — Topeka
Health Occupations
NLNAC Accredited
Labette Community College — Parsons
Bi-Level Nursing Program
NLNAC Accredited
Manhattan Area Technical College — Manhattan
Health Occupations
NLNAC Accredited
MidAmerica Nazarene University — Olathe
Division of Nursing
CCNE Accredited
National American University — Overland Park
NLNAC Accredited
Neosho County Community College — Chanute
Mary Grimes School of Nursing — Chanute
NLNAC Accredited
Newman University — Wichita
CCNE Accredited
North Central Kansas Technical College — Hays
NLNAC Accredited
Pittsburg State University — Pittsburg
Department of Nursing
CCNE Accredited
Pratt Community College — Pratt
Nursing and Allied Health
NLNAC Accredited
Seward County Community College — Liberal
Nursing — Allied Health Division
NLNAC Accredited
Southwestern College
CCNE Accredited
Tabor College — Hillsboro
CCNE Accredited
University of Kansas — Kansas City
School of Nursing
CCNE Accredited
University of Phoenix — Wichita
CCNE Accredited
University of Saint Mary — Leavenworth
CCNE Accredited
Washburn University — Topeka
School of Nursing
CCNE Accredited
Wichita Area Technical College — Wichita
NLNAC Accredited
Wichita State University — Wichita
School of Nursing
CCNE Accredited
1 Salary.com
2 American Hospital Directory
3 Salary.com
Get Your Free Information on Nursing & Healthcare Programs
Find Your Healthcare Degree Fast