Dozens of Excellent Nursing Schools in Maryland
Region Salaries and Job Opps for LPNs and RNs
Educational mobility for nurses, it's an industry buzz-phrase fueled by the much publicized nursing shortage. Nurse "retention" is another important issue. Maryland has not escaped the crisis. What this educational mobility means to you is that you can count on nursing degrees and programs to continue to become way more accessible, with the emphasis on programs like the very popular RN to BSN in traditional and accelerated versions. In fact, the LPN to BSN is gaining a toehold as well.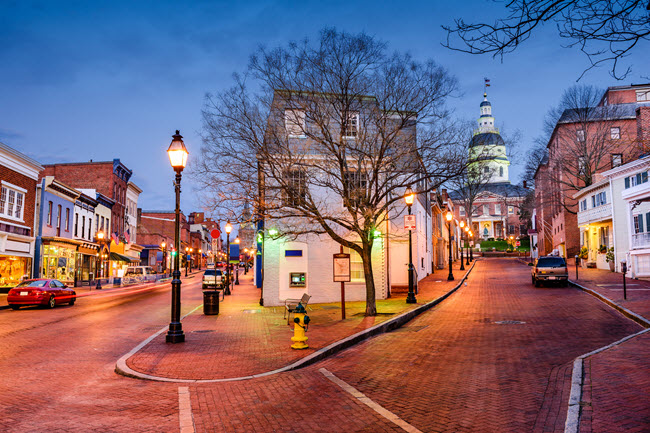 Select from Top-Notch Nursing Programs and Schools
Maryland is fortunate to offer up to student nurses and experienced nurses the impressive collection of nursing schools. So, take advantage of this resource. Choose from technical and vocational schools, where you are likeliest to find practical nurse programs; community colleges that specialize in packaging and delivering Associates degreed RNs; and four-year colleges and universities where you can explore a BSN, MSN, various advanced practice specialties, and even nursing PhDs. We've highlighted the brick and mortar state colleges, too, that offer some nursing degrees in an online format-near carbon copies of their campus programs and in many cases the exact same faculty.
What's Available to New Nurses
If you're new to nursing you'll squeeze the most benefit from your career when you really embrace the mobility built into this field. Once you're in and licensed you have lateral career moves and vertical career moves and increasingly more convenient educational options even while you work and hold a family and social life together. Today, online nursing education is just as top-notch as its campus counterpart and many of the best nursing schools have moved curriculums online for convenience.
How Pro RNs Can Benefit
Experienced RNs: now's the time to return to school. Big push across the state and the rest of the country to get mid-career and younger nurses into advanced degrees. Particularly in demand are nurse educators and nurse administrators. But advanced practice specialties like anesthesia, practitioner and midwife continue to appeal to nurses looking for increased challenge and much more job autonomy. Nursing anesthesia guarantees double the normal RN salary and in some locations much more. However, these programs are much more limited, very competitive to get into and rigorous once you're in.
Salary and Job Outlook for Maryland Nurses
Maryland is home to 51 hospitals, 15 of which are scattered throughout the Baltimore metro area (1) and the rest across the state. Figure that if you opt to work in a metro area that your salary will be slightly higher than a more rural area. Staff RNs in Baltimore average between $57,000 and $69,000 annually (2), which is about $7,000+ more than nurses in many other states. Factors that will move this figure up or down include education, level of experience, area of specialization (trauma, critical care, med-surg, etc), and location.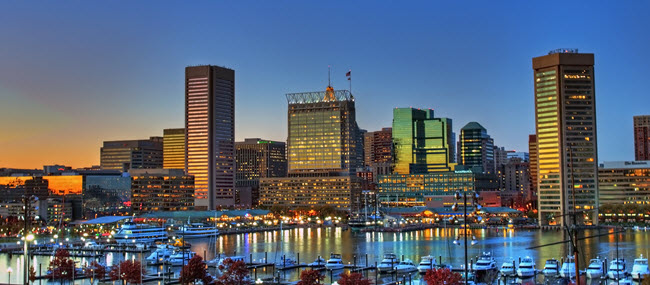 Visit the Maryland Board of Nursing for much more detailed information on nursing, current initiatives in the state, and licensure requirements.
Maryland Nursing Programs that also Offer Online Degree Options
University of Phoenix
CCNE Accredited
Walden University — Maryland
CCNE Accredited
Search our big list of online nursing schools for many more distance nursing education opportunities for new and experienced nurses.
Campus-based Nursing Schools in Maryland
Allegany College of Maryland — Cumberland
Nursing Department
NLNAC Accredited
Anne Arundel Community College — Arnold
Nursing/School of Health Professions, Wellness and Physical Education
NLNAC Accredited
Baltimore City Community College — Baltimore
Department of Nursing
NLNAC Accredited
Bowie State University — Bowie
Department of Nursing
NLNAC Accredited
Carroll Community College — Westminster
Cecil Community College — North East
Nursing Department
NLNAC Accredited
Chesapeake College — Wye Mills
Nursing Program
NLNAC Accredited
College of Notre Dame of Maryland — Baltimore
Department of Nursing
NLNAC Accredited
College of Southern Maryland — LaPlata
Nursing and Health Technology
NLNAC Accredited
Columbia Union College — Takoma Park
Edyth T. James Department of Nursing
NLNAC Accredited
Coppin State University — Baltimore
Helene Fuld School of Nursing
NLNAC Accredited
Frederick Community College — Frederick
Allied Health and Wellness Department
NLNAC Accredited
Harford Community College — Bel Air
Division of Nursing, Allied Health and Physical Education
NLNAC Accredited
Howard Community College — Columbia
Allied Health/Nursing Admissions
NLNAC Accredited
Johns Hopkins University — Baltimore
School of Nursing
CCNE, NLNAC Accredited
Montgomery College — Takoma Park
Nursing Department
NLNAC Accredited
Navy Nurse Corps Anesthesia Program — Bethesda
COA Accredited
Prince George's Community College — Largo
Department of Nursing
NLNAC Accredited
Salisbury University — Salisbury
Department of Nursing
CCNE Accredited
Community College of Baltimore County
School of Health Professions
NLNAC Accredited
Towson University — Towson
Department of Nursing
CCNE Accredited
Uniformed Services University of the Health Sciences — Bethesda
Graduate School of Nursing
CCNE, COA Accredited
University of Maryland — Baltimore
School of Nursing
NLNAC Accredited
University of Phoenix
CCNE Accredited
Villa Julie College — Stevenson
Nursing Department
NLNAC Accredited
Walden University — Maryland
CCNE Accredited
1 American Hospital Directory
2 Salary.com
Get Your Free Information on Nursing & Healthcare Programs
Find Your Healthcare Degree Fast