Minnesota's Big Push in Nurse Education
Find Degrees and Programs for New & Experienced Nurses
Minnesota's big trend in nursing is in educational strategies designed to alleviate the stress brought on by a critical nursing shortage. Right now the largest population of both RNs and LPNs are mid-career and range in age from 30 to 60. This is the most at-risk group for job abandonment. While education of nurses is a primary concern, retention of experienced nurses is just as potent a trend.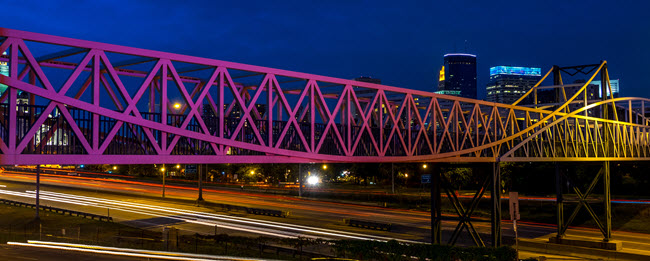 Types of Nursing Degrees and Schools
Across the state you'll find a wide variety of campus programs that train and educate nurses at all levels of practice, including practical nurses, associate degrees, bachelors, graduate and post grad professional programs. Minnesota has been successful with increasing enrollment with innovative strategies such as weekend, evening (1) and online curriculums that address convenience issues for working adults.
Perhaps the biggest immediate need is for new nurses entering the educational system, considering that the smallest number of working nurses are below the age of 30.(2) Popular nursing degree tracks are the 2-year Associates in nursing, offered by most community colleges, and the BSN, which you can find at 4-year colleges and universities. Many nurses that enter the profession with an Associates later earn their BSN. In fact some of the most popular nursing school programs are RN to BSN programs for professional nurses and many are even offered in an online format.
Retaining Experienced RNs
Experienced nurses — you are encouraged to find engaging advanced nursing degrees that allow you to parlay your experience into more challenging careers and bigger salaries. Most in-demand are nurse educators, nurse leaders and practitioners.
Jobs and Salaries for RNs in Minnesota
Hospitals remain large employers for licensed nurses and Minnesota has 55 (3) located across the state. Most are small to mid-sized with a larger cluster located in the Minneapolis-St. Paul area. Because a large part of the state is rural you have plenty of alternative job options, including schools, business and industry, state-run facilities, outpatient medical clinics, rural medical centers, nursing homes and home health, doctor's offices and private practice for advanced practice nurses.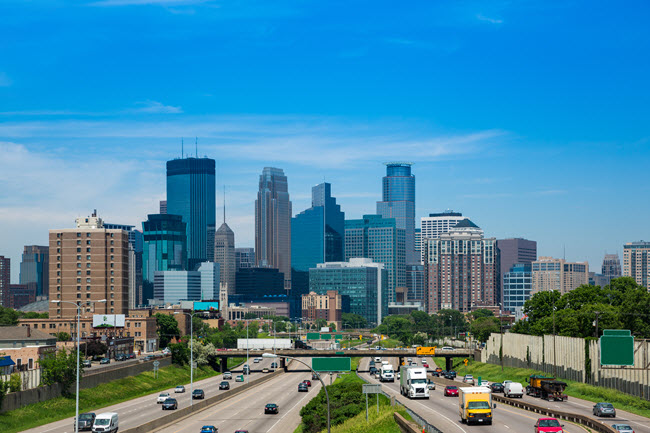 In the Twin Cities, a staff RN's average salary is between $59,000 and $71,000, compared to the same RN working in Bemidji--$39,000 and $47,000.(4) That's a significant difference and illustrates the wide gap between nursing in an urban area versus rural. Other factors can drive salary up or down outside of location: level of education, experience, specialization and type of facility.
For more information on nursing licensure and state requirements and regulations, visit the Minnesota Board of Nursing.
Minnesota Nursing Schools that Offer Some Online Degree Options
Rasmussen College
NLNAC Accredited
University of Phoenix — Minneapolis/St. Paul
CCNE Accredited
Walden University — Minneapolis
CCNE Accredited
Search our big list of online nursing schools for many more distance education opportunities for new and professional nurses.
Campus-based Nursing Schools Across Minnesota
Anoka-Hennepin Technical College — Anoka
NLNAC Accredited
Anoka-Ramsey Community College — Coon Rapids
NLNAC Accredited
Augsburg College — Minneapolis
CCNE Accredited
Bemidji State University — Bemidji
Department of Nursing
CCNE Accredited
Bethel College — St. Paul
Department of Nursing
CCNE Accredited
Bethel University — Arden Hills
College of Adult and Professional Studies
CCNE Accredited
Century College — White Bear Lake
NLNAC Accredited
College of Saint Catherine — St. Paul
Department of Nursing
NLNAC Accredited
College of St. Benedict/St. John's University — St. Joseph
Department of Nursing
CCNE Accredited
College of St. Scholastica — Duluth
Department of Nursing
CCNE Accredited
Concordia College — Moorhead
Department of Nursing
CCNE Accredited
Gustavus Adolphus College
CCNE Accredited
Inver Hills-Century Colleges — Inver Grove Heights
NLNAC Accredited
Mayo School of Health-Related Sciences — Rochester
COA, NLNAC Accredited
Metropolitan State University — St. Paul
School of Nursing
CCNE Accredited
Minneapolis Community and Technical College — Minneapolis
CCNE, NLNAC Accredited
Minneapolis School of Anesthesia — St. Louis Park
COA Accredited
Minnesota State University — Mankato
School of Nursing
CCNE, NLNAC Accredited
Minnesota State University — Moorhead
Department of Nursing
CCNE Accredited
Minnesota West Community and Technical College — Worthington
NLNAC Accredited
Normandale Community College — Bloomington
Nursing/Health Sciences
NLNAC Accredited
North Hennepin Community College — Brooklyn Park
NLNAC Accredited
Presentation College — Fairmont
NLNAC Accredited
Rasmussen College
NLNAC Accredited
Ridgewater College — Hutchinson
NLNAC Accredited
Riverland Community College — Austin
Nursing Program Health Science Division
NLNAC Accredited
Rochester Community and Technical College — Rochester
Health Sciences
NLNAC Accredited
Saint Cloud Technical College — St. Cloud
Saint Mary's University of Minnesota — Minneapolis
COA Accredited
Saint Paul Technical College — St. Paul
Health and Service
NLNAC Accredited
St. Cloud State University — St. Cloud
Department of Nursing Science
CCNE Accredited
St. Olaf College — Minnesota
CCNE Accredited
University of Minnesota — Minneapolis
School of Nursing
CCNE Accredited
University of Phoenix — Minneapolis/St. Paul
CCNE Accredited
Walden University — Minneapolis
CCNE Accredited
Winona State University — Winona
Department of Nursing
CCNE Accredited
1 Creating a Strategic Roadmap for Nursing Education in Minnesota (originally published at http://www.heip.org/documents/NursingWorkforce05.ppt)
2 Ibid.
3 American Hospital Directory
4 Salary.com
Get Your Free Information on Nursing & Healthcare Programs
Find Your Healthcare Degree Fast