Find Out Where to Earn Your RN Degree in North Carolina
Get Invested in a Rewarding Career
North Carolina has a wide range of landscapes and communities. You'll find the same variety in the collection of nursing schools located across the state. You may choose from among some of the most notable state universities and colleges as well as technical and community colleges that have become specialists in shaping entry-level nurses.
Good news if you wish to study and practice in North Carolina — the state has a high demand for well-educated LPNs and RNs. But the biggest struggle remains determining where the demand is greatest, in which specialties the industry must focus and to what educational standards next gen nurses should be held.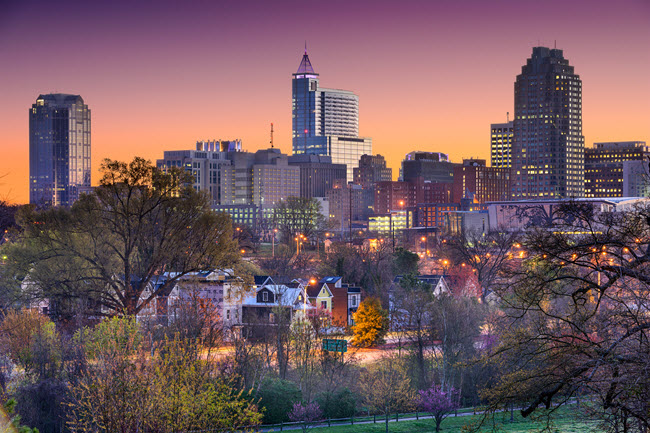 Choose From Diverse Nursing Schools and Degrees
The list below reflects the variety of nursing degrees and levels of education available. RNs comprise the largest slice of the licensed nurse pie and the majority of them still enter the nursing ranks in North Carolina via community college Associates degree programs. This 2-year commitment gives you solid practical skills that can quickly get you up and running in an RN's job with solid job security and a great salary.
If you're seeking a BSN, BSN completion, MSN, a post-grad specialty certificate or even a nursing PhD. then you should stick with the 4-year colleges and universities on the list. AND if campus-based is too inconvenient you'll find a few of these schools that have launched very successful online degree programs, specifically designed to meet the demands of working nurses.
Looking for a Nursing Job in NC
Salary and work environment matter deeply. When you don't like where you work it doesn't matter how big your paycheck may be. So when it comes time to land your RN job shop carefully and make sure you hold yourself to career goals. Remember, nursing offers some of the best career mobility going. You have countless opportunities to move laterally or vertically and boosting your education ever higher is no problem with dozens of accredited and respectable online nursing programs to choose from.
Let's compare a few variables in salary across the NC nursing market:
Average salary range for a staff RN in the Raleigh, Durham, Chapel Hill area falls between $51,000 and $61,000, about the same as that for an RN in Asheville. Compare this though to an RN in Charlotte: $55,000 to $66,000 (1) — a bit higher. Very rural areas are only a couple thousand dollars lower than the Raleigh area. This may be because the state has well over 100 hospitals of all shapes and sizes. Hospitals remain the leading employer for professional nurses and usually offer top salaries in the region.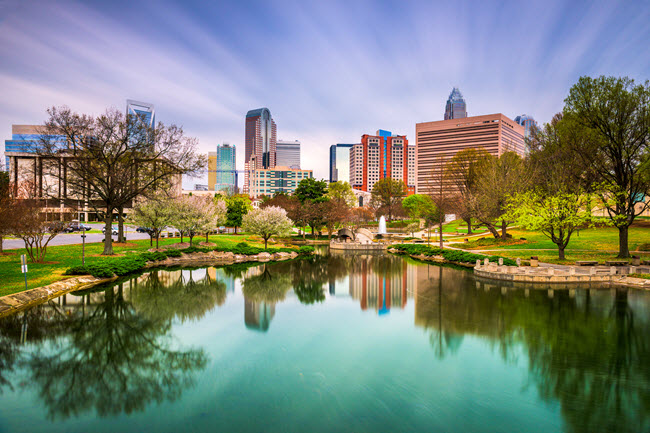 Largest employers include University of North Carolina Hospital at Chapel-Hill, Duke University Hospital, Forsyth Medical Center in Winston Salem, Mission Hospital in Asheville and Moses Cone Memorial Hospital in Greensboro.(2)
For information on state nursing licensure, visit the North Carolina Board of Nursing.
North Carolina Nursing Schools Offering Some Online Study Options
Duke University
School of Nursing
CCNE Accredited
North Carolina Central University
Department of Nursing
NLNAC Accredited
University of North Carolina
CCNE, NLNAC Accredited
University of Phoenix
CCNE Accredited
Search our big list of online nursing schools for many more distance education opportunities
Campus-based Nursing Schools in North Carolina
Asheville-Buncombe Technical Community College — Asheville
Department of Nursing
Barton College — Wilson
School of Nursing
NLNAC Accredited
Cabarrus College of Health Sciences — Concord
Louise Harkey School of Nursing
CCNE, NLNAC Accredited
Cape Fear Community College — Wilmington
NLNAC Accredited
Carolinas College of Health Sciences
School of Nursing — Charlotte
NLNAC Accredited
Carolinas Health Care System — Charlotte
Mercy School of Nursing
NLNAC Accredited
Catawba Valley Community College — Hickory
Department of Nursing
NLNAC Accredited
Central Piedmont Community College — Charlotte
Department of Nursing and Human Services
Coastal Carolina Community College — Jacksonville
Department of Nursing and Allied Health
College of the Albemarle — Elizabeth City
Department of Allied Health and Wellness
NLNAC Accredited
Davidson County Community College — Lexington
Division of Health Technology
NLNAC Accredited
Duke University — Durham
School of Nursing
CCNE Accredited
Durham Regional Hospital — Durham
Watts School of Nursing
NLNAC Accredited
East Carolina University — Greenville
School of Nursing
NLNAC Accredited
Fayetteville State University — Fayetteville
Nursing Department
CCNE Accredited
Fayetteville Technical Community College — Fayetteville
Nursing Department
NLNAC Accredited
Gardner-Webb University — Boiling Springs
School of Nursing
NLNAC Accredited
Johnston Community College — Smithville
Department of Nursing
Lees-McRae College — Banner Elk
CCNE Accredited
Lenoir-Rhyne College — Hickory
Department of Nursing
CCNE Accredited
Mitchell Community College — Statesville
NLNAC Accredited
North Carolina A&T State University — Greensboro
School of Nursing
NLNAC Accredited
North Carolina Central University — Durham
Department of Nursing
NLNAC Accredited
Queens University — Charlotte
Presbyterian School of Nursing
NLNAC Accredited
Randolph Community College — Asheboro
Health Occupations Department
NLNAC Accredited
Rowan-Cabarrus Community College — Salisbury
Nursing Education
NLNAC Accredited
Southeastern North Carolina Nursing Consortium — Pembroke
Nursing Department
University of North Carolina — Chapel Hill
School of Nursing
CCNE Accredited
University of North Carolina — Chapel Hill
School of Public Health Nursing
NLNAC Accredited
University of North Carolina — Greensboro
School of Nursing
CCNE, NLNAC Accredited
University of North Carolina — Pembroke
Nursing Department
CCNE Accredited
University of North Carolina — Wilmington
School of Nursing
CCNE, NLNAC Accredited
University of North Carolina — Charlotte
College of Nursing and Health Professions
CCNE Accredited
Western Carolina University — Cullowhee
College of Applied Sciences, Department of Nursing
CCNE Accredited
Western Piedmont Community College — Morganton
NLNAC Accredited
Winston-Salem State University — Winston-Salem
Division of Health Sciences, Department of Nursing
CCNE Accredited
1 Salary.com
2 American Hospital Directory
Get Your Free Information on Nursing & Healthcare Programs
Find Your Healthcare Degree Fast