Become an LPN or RN in Washington
Narrow Down Nursing Schools that Best Meet Your Goals
It's a great time to go to school for nursing in Washington. Across the country well-educated RNs and LPNs are in huge demand. Washington is no different. Nurses in mid- to late-career are abandoning jobs and reducing work hours, leaving in their wake a dangerous void.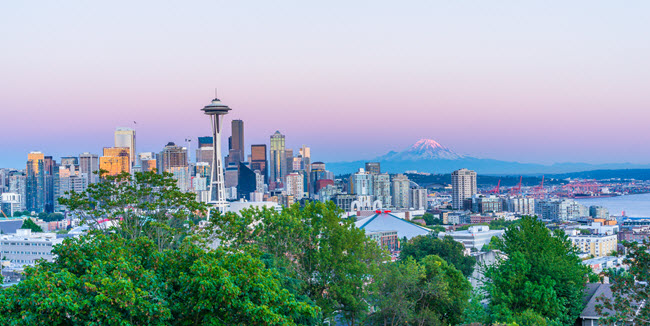 How to Narrow Down the List of Schools
When you want a brick and mortar nursing program right in your own backyard consider one of the few dozen in Washington. Given an A to Z list of schools, how do you best narrow down your search to schools that matter to your career goals?
If you're a new nurse in Washington and have no previous college degree then first decide your goal, then adjust your school search as needed.
Professional nurses or career changers with a college degree already, should narrow their search for nursing schools to the four-year colleges and universities.
Find a Good Salary and Job in Washington State
Of course salary matters and a good job is the intended goal of a nursing degree. An average salary range for a staff RN in Seattle is between $61,000 and $73,600. Compare this with that for a staff RN in the Yakima area: $50,700 to $61,000.(1) This illustrates the significant differences in RN salaries between very metro areas and those a bit more outlying. If you are up for an adventure, why not try a couple travel nursing assignments in the state? These jobs offer excellent pay, completion bonuses and variety. AND there are many travel jobs open in the Pacific Northwest region.(2)
Hospitals remain the largest employers of nurses, particularly RNs. There are over 60 in state (3). But when it comes time to search for a job don't overlook the other direct patient care and non-patient care employers where nurses are prevalent, including long-term and assisted care facilities, outpatient clinics, doctors — offices, school systems and large businesses, insurance and pharmaceutical companies, research facilities, and legal offices.

For information on state licensure requirements visit the Washington State board of nursing.
Washington Nursing Schools that Offer Some Online Degree Options
Gonzaga University
CCNE Accredited
University of Phoenix
CCNE Accredited
Search our big list of online nursing schools for many more distance education opportunities.
Campus-based Nursing Schools in Washington
Bellevue Community College — Bellevue
Health Sciences
NLNAC Accredited
Big Bend Community College — Moses Lake
School of Nursing
NLNAC Accredited
Clark College — Vancouver
NLNAC Accredited
Columbia Basin College — Pasco
Nursing Department
NLNAC Accredited
Eastern Washington University — Cheney
WSU Intercollegiate College of Nursing
CCNE Accredited
Everett Community College — Everett
Department of Nursing
NLNAC Accredited
Gonzaga University — Spokane
CCNE Accredited
Grays Harbor College — Aberdeen
Nursing Program
NLNAC Accredited
Highline Community College — Des Moines
Nursing Program
NLNAC Accredited
Lake Washington Technical College — Kirkland
Lower Columbia College — Longview
NLNAC Accredited
Northwest University — Kirkland
CCNE Accredited
Olympic College — Bremerton
NLNAC Accredited
Pacific Lutheran University — Tacoma
CCNE Accredited
Peninsula College — Port Angeles
Department of Nursing
NLNAC Accredited
Pierce College — Puyallup
Associate Degree Nursing
NLNAC Accredited
Seattle Central Community College — Seattle
NLNAC Accredited
Seattle Pacific University — Seattle
CCNE Accredited
Seattle University — Seattle
CCNE Accredited
Shoreline Community College — Seattle
Nursing Program
NLNAC Accredited
Skagit Valley College — Mount Vernon
Nursing Department
NLNAC Accredited
South Puget Sound Community College — Olympia
NLNAC Accredited
Tacoma Community College — Tacoma
NLNAC Accredited
University of Washington — Seattle
CCNE Accredited
Walla Walla Community College — Walla Walla
NLNAC Accredited
Washington State University — Spokane
CCNE Accredited
Wenatchee Valley College — Wenatchee
NLNAC Accredited
Whitworth College
CCNE Accredited
Yakima Valley Community College — Yakima
NLNAC Accredited
1 Salary.com
2 Travel Nursing Demands Shift to Pacific Northwest
3 American Hospital Directory
Get Your Free Information on Nursing & Healthcare Programs
Find Your Healthcare Degree Fast