Find an Accredited Nursing Degree Program in New Jersey
Get RN Licensed; Earn a Secure and Long-Term Salary
The trend in New Jersey for nurses is this: all are needed and ASAP. The nationwide shortage is being taken seriously in every single state. Strategies for attracting new nursing blood are being aggressively pursued, as well as those directed at nurse retention, another equally hot-button issue.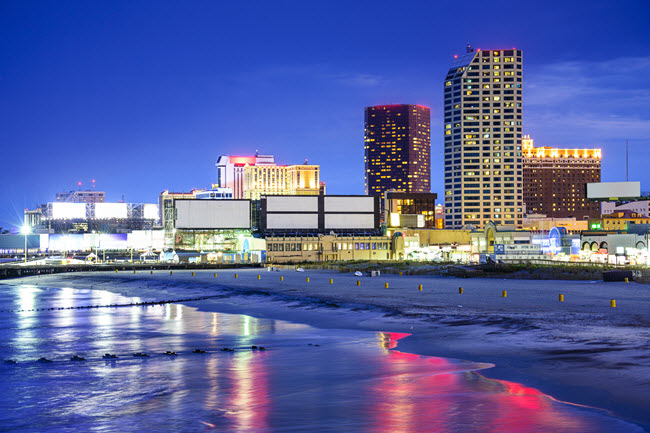 New Jersey is a heavily populated state and as such has dozens of small to very large hospitals with nursing staffs to outfit. But beyond hospitals you'll discover many more small medical centers, outpatient clinics, nursing homes and assisted living facilities, and doctors — offices. All need well-educated nurses.
What New Jersey Schools Have to Offer
If you wish to fast-track your education into a solid nursing job then explore the technical and vocational and community college nursing school scene. These schools specialize in the very practical aspects of nursing from the ground up. Tech schools can train you in practical nursing and prep you for the LPN license. Community colleges are hands-down experts in turning out Associates degreed nurses ready to pass their RN licensure exam. In fact the largest population of new nurses enters the profession via the Associates degree. This offers an excellent job with good salary within 2 years AND you have some of the best career mobility going.
Four-year colleges and universities focus on educating the baccalaureate and masters degree nurses. Here experienced RNs may also search for a huge spectrum of specialization certificates and advanced practice specialties like nurse practitioner and clinical nurse specialist. Look for very competitive nursing anesthesia programs at the University of Medicine and Dentistry and Our Lady of Lourdes Medical Center.
RN Outlook and Earning Potential Across the State
The job outlook for RNs in New Jersey is excellent especially given the vacant number of nursing jobs, particularly in hospitals. Seventy-five hospitals (1) are located throughout the state and a number of them are university-affiliated teaching hospitals. Because New Jersey is predominantly urban and located in the Mid-Atlantic, your earning potential in the industry is some of the best in the nation. Even in small (but upscale) Cape May the salary for a staff RN falls between $58,000 and $70,000. But compare this with the average salary ranges for RNs in Montclair and Newark--$63,500 and $77,000.(2) This proves a clear salary metric: metro areas offer RNs larger salaries.
For detailed information on state nursing licensure and education requirements visit the New Jersey Board of Nursing.
New Jersey Nursing Schools that Offer Some Online Degrees
Felician College — Lodi
Nursing Programs
CCNE Accredited
Seton Hall University
College of Nursing
University of Phoenix
CCNE Accredited
Search our big list of online nursing schools for many more distance education opportunities.
Campus-based Nursing Schools in New Jersey
Atlantic Cape Community College — Mays Landing
Allied Health Division
NLNAC Accredited
Bayonne Hospital School of Nursing — Bayonne
NLNAC Accredited
Bergen Community College — Paramus
Department of Nursing
NLNAC Accredited
Bloomfield College — Bloomfield
CCNE Accredited
Brookdale Community College — Lincroft
Department of Nursing and Allied Health
NLNAC Accredited
Burlington County College — Pemberton
Department of Nursing and Allied Health
NLNAC Accredited
Capital Health System — Trenton
School of Nursing
NLNAC Accredited
Christ Hospital — Jersey City
School of Nursing
NLNAC Accredited
College of New Jersey
CCNE Accredited
College of St. Elizabeth — Morristown
NLNAC Accredited
County College of Morris — Randolph
Department of Nursing and Allied Health
NLNAC Accredited
Cumberland County College — Vineland
Nursing Department/Division of Health and Sciences
NLNAC Accredited
Essex County College — Newark
Department of Nursing
NLNAC Accredited
Fairleigh Dickinson University — Teaneck
CCNE Accredited
Felician College — Lodi
Nursing Programs
CCNE Accredited
Gloucester County College — Sewell
Nursing and Allied Health Division
NLNAC Accredited
Helene Fuld School of Nursing in Camden County — Blackwood
NLNAC Accredited
Holy Name Hospital — Teaneck
School of Nursing
NLNAC Accredited
Kean University — Union
Department of Nursing
NLNAC Accredited
Mercer County Community College — Trenton
Department of Nursing
NLNAC Accredited
Monmouth University — West Long Branch
CCNE Accredited
Mountainside Hospital School of Nursing — Montclair
NLNAC Accredited
New Jersey City University — Jersey City
Department of Nursing
NLNAC Accredited
Ocean County College — Toms River
Department of Nursing and Allied Health
NLNAC Accredited
Our Lady of Lourdes Medical Center — Camden
MSN Nurse Anesthesia Program
COA Accredited
Passaic County Community College — Paterson
Department of Nursing Education
NLNAC Accredited
Ramapo College of New Jersey — Mahwah
Nursing Program
NLNAC Accredited
Raritan Valley Community College — Somerville
Department of Nursing
NLNAC Accredited
Richard Stockton College of New Jersey — Pomona
Nursing Program
CCNE Accredited
Rutgers — Newark
College of Nursing
CCNE Accredited
Rutgers — Camden
CCNE Accredited
University of Phoenix — Jersey City
CCNE Accredited
Saint Francis Medical Center — Trenton
School of Nursing
NLNAC Accredited
Saint Peter's College — Jersey City
Department of Nursing
CCNE Accredited
Seton Hall University — South Orange
MSN Programs — College of Nursing
NLNAC Accredited
Thomas Edison State College — Trenton
NLNAC Accredited
Trinitas Hospital — Elizabeth
Trinitas School of Nursing
NLNAC Accredited
Union County College — Elizabeth
NLNAC Accredited
University of Medicine and Dentistry of New Jersey — Newark
School of Nursing
NLNAC Accredited
William Paterson University
Department of Nursing
CCNE Accredited
1 American Hospital Directory
2 Salary.com
Get Your Free Information on Nursing & Healthcare Programs
Find Your Healthcare Degree Fast