Delaware Nursing Schools
Explore Schools, Salaries and Jobs in the State
Like other states Delaware is working overtime to attract new nursing students to its ranks as well as retain experienced nurses. While Delaware is one of the smaller states you'll find about a dozen good schools of nursing, including state colleges and universities, community colleges, and technical and career schools.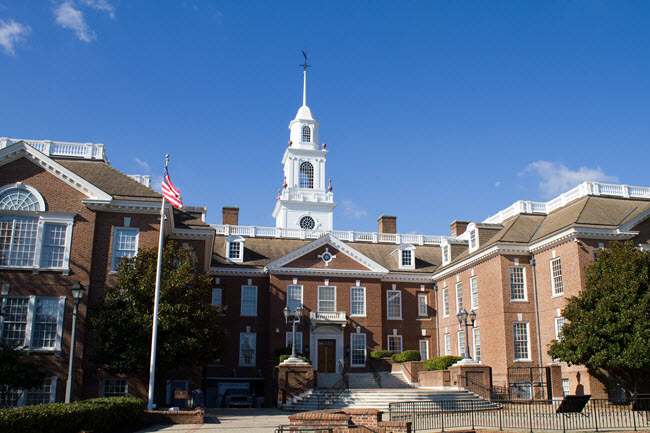 What Can You Study in a Nursing School?
Today, your choices in nursing education are quite broad. Get your feet wet as an RN for a couple years and your education and career options jump, particularly once you earn your BSN, or Bachelor of Science in Nursing. You can really work in almost any aspect of healthcare. A few of the specialties that are really hurting for good nurses include nursing education and nursing administration. But a couple of really cool opportunities offer challenging careers that don't keep you cooped up inside a hospital: flight nurse, legal nurse, and forensic nurse.
Think Ahead: Salary and Jobs
All of these nursing specialties may be found right in a school in Delaware. Think ahead while you plan as well. The bulk of staff RNs in Delaware earn a salary between $58,000 and $70,000* depending upon experience, education, care facility and specialization.
Since most RNs are employed by hospitals it's important to know that over 20 hospitals are located in the state and range from large general facilities to small community medical centers. Regardless of your intended specialization, you'll find ample job opportunity in Delaware.

For information on state nursing licensure requirements visit the Delaware Board of Nursing.
Nursing Schools in Delaware Offering Distance Education Options
University of Delaware
College of Health Sciences, School of Nursing
CCNE, NLNAC Accredited
Search our big list of online nursing schools for more options in distance education.
Campus-based Nursing Schools in Delaware
Beebe Medical Center — Lewes
Beebe School of Nursing
NLNAC Accredited
Delaware State University — Dover
Department of Nursing
CCNE, NLNAC Accredited
Delaware Technical and Community College
NLNAC Accredited
University of Delaware — Newark
College of Health Sciences, School of Nursing
CCNE, NLNAC Accredited
Wesley College — Dover
Division of Nursing
NLNAC Accredited
Widener University — Wilmington
School of Nursing
NLNAC, CCNE Accredited
Wilmington College — New Castle
Division of Nursing
NLNAC Accredited
Wilmington University
CCNE Accredited
*Salary.com
Get Your Free Information on Nursing & Healthcare Programs
Find Your Healthcare Degree Fast