Illinois Nursing Schools and Programs
Study Hard, Land a Job
Fast-track your nursing career at a school in Illinois. Dozens of schools located throughout the state answer the call for the shortage of nurses. And the short-fall does not just affect big hospitals. Small communities wrestle with job vacancies AND even more impending concerns: how to attract and retain good nurses.
Statewide Nursing Trends
Across Illinois the demand for educated and licensed nurses is keeping pace with the same national trends. Search our list below for schools that provide BSN, MSN, post-grad specialties, PhD programs and even the increasingly popular practical, or professional, nursing programs. The practical nurse programs can put you into a solid and well-paying job in months AND you can choose to move forward with your education at any time. But in any event of economic downturn, licensure of any kind is imperative for nurses.
Education Options for Working RNs in Illinois
Experienced RNs: find out what advanced degrees are hot, challenging and well-paid. Innovative new ground for pro nurses include the field of forensics, legal nursing, and nursing administration and leadership — all of these offer powerful career options that easily get you outside the old four walls of a hospital. If you find campus programs are too inflexible, search our list of online nursing schools for distance degrees. Guess what? online nursing education is now being offered by many of the best brick-and-mortar schools and available programs are near carbon-copies of their campus curriculums. It's all about convenience and what works for you right now.
By far the bulk of Illinois nurses are clustered in metro areas, namely Chicago, where a set of large hospitals serves large populations of residents and out of state patients requiring general care or specialized facilities.
Salary, Hospitals and Job Outlook in Illinois
The bulk of staff RNs that work in Chicago earn a salary between $60,000 and $71,000. But staff RNs in a nursing home environment consistently take home about $10,000 less. This is an illustration of factors that can figure prominently into your job track. Salary is often affected by zip code, level of education, practice specialty (ie a nurse anesthetist in Chicago would bring home no less than $130,000), type of care facility and level of experience.*
What you need to remember is this: nursing is a solid career with excellent opportunities for career movement. Optimize your salary by signing on for extra shifts, overtime and holidays, even a stint of per diem work. Travel nurses earn big bucks when they are willing to go where the demand is absolutely the highest, which could mean Phoenix in July, though smaller hospitals nearer to home in rural Illinois may need temporary help which allows you to see the natural beauty the state has to offer without traveling as far.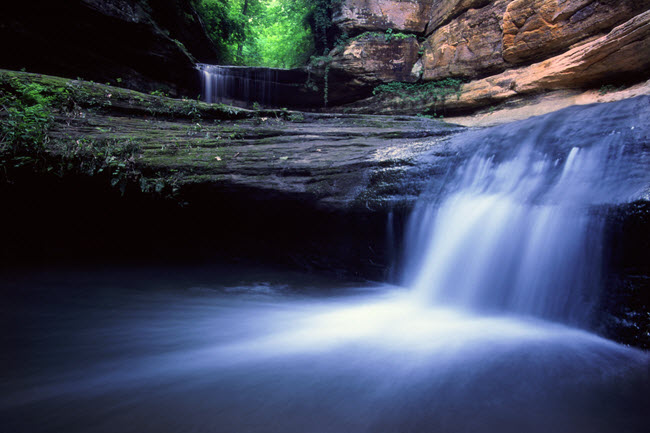 For information on state nursing licensure requirements visit the State of Illinois Professional Nurse website.
Nursing Schools in Illinois Offering Distance Learning Options
Governors State University — University Park
College of Health Professions
NLNAC Accredited
Purdue University Global — Chicago
CCNE Accredited
Rush University
CCNE Accredited
University of Phoenix
CCNE Accredited
Search our big list of online nursing schools for many more distance nursing opportunities.
Campus-based Nursing Schools in Illinois
Aurora University — Aurora
School of Nursing
NLNAC Accredited
Benedictine University — Lisle
Department of Nursing and Health
CCNE, NLNAC Accredited
Black Hawk College — Moline
NLNAC Accredited
Blessing-Rieman College of Nursing — Quincy
CCNE Accredited
Bradley University — Peoria
Department of Nursing
NLNAC Accredited
Capital Area Career Center — Springfield
School of Practical Nursing
Carl Sandburg College — Galesburg
Allied Health Division
NLNAC Accredited
Chicago Public Schools — Chicago
NLNAC Accredited
Chicago State University — Chicago
College of Health Sciences
NLNAC Accredited
College of DuPage — Glen Ellyn
NLNAC Accredited
College of Lake County — Grayslake
Nursing Department
NLNAC Accredited
Danville Area Community College — Danville
School of Nursing
DePaul University — Chicago
Department of Nursing
CCNE Accredited
Eastern Illinois University — Charleston
College of Sciences — Nursing Program
Elgin Community College — Elgin
Health Professions Department
NLNAC Accredited
Elmhurst College — Elmhurst
Department of Nursing
CCNE Accredited
Frontier Community College — Fairfield
Governors State University — University Park
College of Health Professions
NLNAC Accredited
Graham Hospital Association School of Nursing — Canton
NLNAC Accredited
Harry S. Truman College — Chicago
Nursing Department
NLNAC Accredited
Heartland Community College — Bloomington
Nursing Program
NLNAC Accredited
Illinois Central College — Peoria
NLNAC Accredited
Illinois Eastern Community College — Olney
NLNAC Accredited
Illinois State University — Normal
Mennonite College of Nursing
CCNE Accredited
Illinois Valley Community College — Oglesby
Division of Health Professions
NLNAC Accredited
Illinois Wesleyan University — Bloomington
CCNE Accredited
Joliet Junior College — Joliet
Nursing Education Department
NLNAC Accredited
Kankakee Community College — Kankakee
Kaskaskia College — Centralia
NLNAC Accredited
Kennedy-King College — Chicago
NLNAC Accredited
Lake Land College — Mattoon
Division of Allied Health
NLNAC Accredited
Lakeview College of Nursing — Danville
CCNE, NLNAC Accredited
Lewis and Clark Community College — Godfrey
Allied Health
NLNAC Accredited
Lewis University
College of Nursing and Health Professions — Romeoville
CCNE Accredited
Lincoln Land Community College — Springfield
NLNAC Accredited
Lincoln Trail College — Robinson
Loyola University Chicago — Chicago
Marcella Niehoff School of Nursing — Graduate Programs
CCNE, NLNAC Accredited
MacMurray College — Jacksonville
Department of Nursing
CCNE Accredited
Malcolm X College — Chicago
NLNAC Accredited
McKendree College — Lebanon
Division of Nursing
CCNE, NLNAC Accredited
Millikin University — Decatur
School of Nursing
CCNE Accredited
Moraine Valley Community College — Palos Hills
Department of Nursing
NLNAC Accredited
North Park University — Chicago
School of Nursing
CCNE Accredited
Northern Illinois University — DeKalb
School of Nursing
CCNE Accredited
Oakton Community College — Des Plaines
Department of Allied Health
NLNAC Accredited
Olivet Nazarene University — Bourbonnais
Division of Nursing
CCNE Accredited
Olney Central College — Olney
OSF HealthCare System — Peoria
Saint Francis Medical Center, College of Nursing
NLNAC Accredited
Parkland College — Champaign
Department of Health Professions
NLNAC Accredited
Prairie State College — Chicago Heights
Nursing and Allied Health
NLNAC Accredited
Purdue University Global — Chicago
CCNE Accredited
Saint Anthony College of Nursing — Rockford
CCNE Accredited
Saint Francis Medical Center — Peoria
College of Nursing
NLNAC Accredited
Saint Xavier University — Chicago
School of Nursing
CCNE Accredited
South Suburban College — South Holland
Department of Nursing
NLNAC Accredited
Southeastern Illinois College — Harrisburg
Department of Nursing and Allied Health
Southern Illinois University — Edwardsville
School of Nursing
CCNE Accredited
Southwestern Illinois College — Belleville
Nursing Education
NLNAC Accredited
St. John's College — Springfield
Department of Nursing
NLNAC Accredited
Trinity Christian College — Palos Heights
Department of Nursing
CCNE Accredited
Trinity College of Nursing and Health Sciences — Moline
CCNE, NLNAC Accredited
Triton College — River Grove
NLNAC Accredited
University of Illinois — Chicago
College of Nursing
Wabash Valley College — Mt. Carmel
Waubonsee Community College — Sugar Grove
West Suburban College of Nursing — Oak Park
NLNAC Accredited
William Rainey Harper College — Palatine
School of Nursing
NLNAC Accredited
*salary sources, Salary.com
Get Your Free Information on Nursing & Healthcare Programs
Find Your Healthcare Degree Fast