Kentucky Colleges and Universities that Deliver Nursing Degrees
Find Campus-based and Online Schools that Offer the Education You Need
Right now demand for nurses is high and growing higher. But how does that affect the nursing industry and specifically, nursing education, in Kentucky?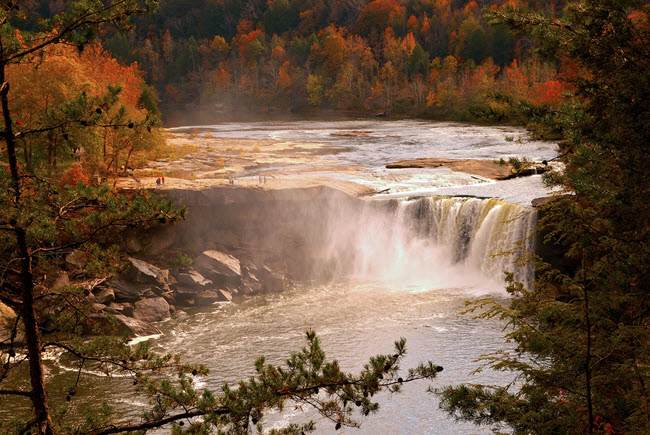 Learn the trends in nursing at work in Kentucky. Kentucky has made efforts over the last decade to evaluate its educational model for nursing students. You can be confident that modifications made to curriculums deliver competencies critical to the jobs available. AND degrees and programs work collaboratively to build on each other, versus duplicating content.
Fast-Track Nursing Degrees that Get you into a Job Quickly
What do you need to get into a good job in nursing?
Choose from FIVE types of nursing programs: Depending upon what type of school you choose to attend you have 5 completely different nursing programs being offered at the state schools: practical nurse (LPN), associates degree (2-year), Bachelors degree (4 year), Masters degree (additional 2+ years), and PhD.
Of these the first two are quick routes to a nurses job.
Practical nurse programs are growing in number, a logical industry response to job vacancies and a feeling of staffing immediacy. Follow a practical nursing curriculum and you can have a license and be on the job in months. This plan also works in the long-term because you have the flexibility to build on your LPN after the fact. Earn on the job experience THEN return to school for your Associates degree or your Bachelors.
Think a practical nurse program would be a great fit? Start looking at the community and technical college sites, first.
The Associates degree in nursing is possibly one of the most popular avenues into nursing. You can have a solid practical education in the business AND be prepped to take the RN licensure exam-the industry standard. Plus, you can always go back and earn your BSN, or your MSN. Most community colleges in Kentucky offer this track.
Working Nurses in Kentucky: How to Fuel a Powerful Career Boost
If you already are working as an RN here are a couple of strategies for leveraging the career mobility that's built into nursing:
Grab an in-demand advanced degree: the biggest demand in nursing right now for experienced RNs are in the fields of education and administration. You'll find a lot of Masters level nursing degrees in both.
Go for ultimate salary gusto: a couple of really hot advanced nursing programs are attractive for pro RNs looking to maximize experience and salary. Legal nursing gets you completely outside the walls of a hospital in many cases and you essentially become like a consultant to lawyers and to hospitals. Nursing anesthesia offers unrivalled earning potential for RNs BUT you can't study to be a nurse anesthetist online — these programs are very demanding, much more limited in number, and competitive just to get into.

Look Ahead to Job and Salary in Kentucky

Get in on one of the fastest growing industries in the nation. Kentucky has over 75 hospitals.(1) Every single one has vacant nursing jobs. Even though hospitals employ the largest number of RNs doesn't mean you should overlook the other work environments in which nurses work: nursing homes, long term care facilities, private practice, and schools and businesses among others.

Average salary for a staff RN in Louisville is between $53,000 and $64,000.(2)

If you can get a nursing degree then you're a shoe-in for a steady, well-paying job. Doesn't matter how "down" the economy turns; nursing is rock solid.

Visit the Kentucky Board of Nursing for more information on nursing within the state and for all licensure questions.

Kentucky Nursing Schools Offering Online Degree Options

University of Louisville
Health Science Center School of Nursing
CCNE Accredited

University of Phoenix
CCNE Accredited

Search our big list of online schools for many more distance nursing education opportunities.

Campus-based Nursing Schools in Kentucky

Ashland Community College — Ashland
Division of Biological Sciences and Related Tech
NLNAC Accredited

Bellarmine University — Louisville
Lansing School of Nursing and Allied Health
CCNE Accredited

Berea College — Berea
Department of Nursing
CCNE Accredited

Bluegrass Community and Technical College — Lexington
Nursing Division
NLNAC Accredited

Eastern Kentucky University — Richmond
College of Health Sciences, Department of Nursing
CCNE, NLNAC Accredited

Elizabethtown Community College — Elizabethtown
NLNAC Accredited

Frontier School of Midwifery and Family Nursing — Hyden
NLNAC Accredited

Galen Health Institutes — Louisville

Henderson Community College — Henderson
NLNAC Accredited

Hopkinsville Community College — Hopkinsville
NLNAC Accredited

Indiana Wesleyan University — Louisville
College of Adult and Professional Studies
CCNE Accredited

Jefferson Community College — Louisville
NLNAC Accredited

Kentucky Christian University — Grayson
School of Nursing
CCNE Accredited

Kentucky State University — Frankfort
School of Nursing
NLNAC Accredited

Madisonville Community College — Madisonville
NLNAC Accredited

McKendree College — Louisville
NLNAC Accredited

Midway College — Midway
NLNAC Accredited

Morehead State University — Morehead
Department of Nursing and Allied Health Sciences
CCNE, NLNAC Accredited

Murray State University — Murray
Department of Nursing
CCNE Accredited

Northern Kentucky University — Highland Heights
NLNAC Accredited

Pikeville College — Pikeville
Division of Nursing

Somerset Community College — Somerset
NLNAC Accredited

Southeast Community College — Cumberland
NLNAC Accredited

Spalding University — Louisville
School of Nursing and Health Science
CCNE Accredited

Spencerian College — Louisville
School of Practical Nursing

Sullivan University — Lexington

Thomas More College — Crestview Hills
Department of Nursing
NLNAC Accredited

University of Kentucky — Lexington
College of Nursing
CCNE Accredited

University of Louisville — Louisville
Health Science Center School of Nursing
CCNE Accredited

University of Phoenix — Louisville
CCNE Accredited

West Kentucky Community and Technical College — Paducah
Division of Nursing
NLNAC Accredited

Western Kentucky University
Department of Nursing
CCNE, NLNAC Accredited

1 American Hospital Directory
2 Salary.com

Get Your Free Information on Nursing & Healthcare Programs
Find Your Healthcare Degree Fast