Study to Become a Nurse in Pennsylvania
Choose from Dozens of Campus Degrees and Programs
Pennsylvania nursing demand is excellent and you have close to 100 campus-based accredited schools from which to choose. State lawmakers have taken proactive steps to create new vigor in nursing education, part of a plan to try and offset some of the nursing job losses expected in the next decade.
Good news is that the job market for both LPNs and RNs in Pennsylvania is strong. The nursing career offers perhaps the most stable jobs in existence and salaries that keep food on the table even during economic downturns.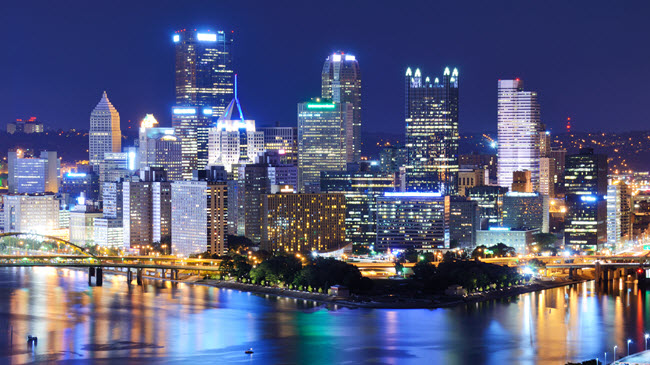 How to Search the List Below for Programs that Match your Goals
How do you look at a list of schools and decide which ones may hold the key to your career dreams?
Jobs and Salaries for RNs and LPNs in PA
Nurse jobs are plentiful in Pennsylvania. New nurses are in high demand and a lot of press is given to this issue, but professional mid-career nurses are needed to fill increasingly advanced positions — in administration, education and advanced specialty care.
Biggest employers are hospitals and there are 182 located across the state (1), from small to large. Of course the largest are located in metro areas like Philadelphia and Pittsburgh. But there are plenty of other patient care settings that employ RNs and LPNs, including nursing homes, assisted care facilities, outpatient medical centers, home care, hospice, doctors — offices and even schools and businesses.

Average salary range for an RN in Philadelphia is between $58,000 and $70,000. (2)
For information on state licensure requirements visit the Pennsylvania State Board of Nursing.
Nursing Schools in Pennsylvania that Offer Some Online Degree Options
Chatham University — Pittsburgh
CCNE Accredited
Drexel University — Philadelphia
CCNE, NLNAC, COA Accredited
Duquesne University — Pittsburgh
CCNE Accredited
Temple University — Philadelphia
CCNE, NLNAC Accredited
Villanova University — Villanova
College of Nursing
CCNE Accredited
Search our big list of online nursing schools for many more distance education opportunities.
Campus-based Nursing Schools in Pennsylvania
Abington Memorial Hospital — Willow Grove
Dixon School of Nursing
NLNAC Accredited
Alle-Kiski Medical Center — New Kensington
Citizens School of Nursing
NLNAC Accredited
Alvernia College — Reading
CCNE Accredited
Bloomsburg University of Pennsylvania — Bloomsburg
CCNE Accredited
Bucks County Community College — Newtown
Department of Nursing
NLNAC Accredited
Butler County Community College — Butler
Nursing and Allied Health Division
NLNAC Accredited
California University of Pennsylvania — California
CCNE Accredited
Career Technology Center — Scranton
School of Practical Nursing
NLNAC Accredited
Carlow University — Pittsburgh
School of Nursing
CCNE Accredited
Cedar Crest College — Allentown
Nursing Department
NLNAC Accredited
Central Pennsylvania Institute of Science and Technology — Pleasant Gap
NLNAC Accredited
Chatham University — Pittsburgh
CCNE Accredited
Chester County Intermediate Unit — Coatesville
Center for Arts and Technology
NLNAC Accredited
Clarion County Career Center — Shippenville
Practical Nursing
NLNAC Accredited
Clarion University of Pennsylvania-Venango — Oil City
School of Nursing
NLNAC Accredited
Clarion-Edinboro-Slippery Rock Universities — Edinboro
Master of Science in Nursing Program
NLNAC Accredited
Clearfield County Career and Technology Center — Clearfield
NLNAC Accredited
Community College of Allegheny County — Pittsburgh
Nursing Division
NLNAC Accredited
Community College of Beaver County — Monaca
Nursing Department
NLNAC Accredited
Community College of Philadelphia — Philadelphia
Department of Nursing
NLNAC Accredited
Community Health Systems, Inc — Coatesville
Brandywine School of Nursing
NLNAC Accredited
Conemaugh Valley Memorial Hospital — Johnstown
School of Nursing
NLNAC Accredited
Crawford County Area Vocational Technical School — Meadville
Practical Nursing Programs
NLNAC Accredited
Delaware County Intermediate Unit — Folcroft
Practical Nursing Program
NLNAC Accredited
DeSales University — Center Valley
Department of Nursing and Health
NLNAC Accredited
Drexel University — Philadelphia
CCNE, NLNAC, COA Accredited
Duquesne University — Pittsburgh
CCNE Accredited
East Stroudsburg University of Pennsylvania — East Stroudsburg
Department of Nursing
NLNAC Accredited
Eastern Center for Arts & Technology — Willow Grove
Practical Nursing Program
NLNAC Accredited
Eastern University — St. Davids
Department of Nursing
CCNE Accredited
Edinboro University of Pennsylvania — Edinboro
CCNE Accredited
Exela Health School of Anesthesia — Latrobe
COA Accredited
Fayette County Area Vocational Technical School — Uniontown
Practical Nursing Program
NLNAC Accredited
Frank J. Tornetta School of Anesthesia — Norristown
COA Accredited
Frankford Hospital — Philadephia
School of Nursing
NLNAC Accredited
Franklin County Career Technology Center — Chambersburg
NLNAC Accredited
Gannon University — Erie
Villa Maria School of Nursing
CCNE Accredited
Greater Johnstown Area Vocational Technical School — Johnstown
NLNAC Accredited
Greene County Area Vocational Technical School — Waynesburg
Practical Nursing Program
NLNAC Accredited
Gwynedd-Mercy College — Gwynedd Valley
School of Nursing
NLNAC Accredited
Hanover Public School District — Hanover
NLNAC Accredited
Harcum College — Bryn Mawr
Department of Nursing
NLNAC Accredited
Harrisburg Area Community College — Harrisburg
NLNAC Accredited
Hazelton Area Vocational Technical School — Hazleton
Practical Nursing Program
NLNAC Accredited
Heritage Valley Health System — Moon Township
School of Nursing
NLNAC Accredited
Holy Family University — Philadelphia
School of Nursing
NLNAC Accredited
Immaculata University — Immaculata
CCNE Accredited
Indiana University of Pennsylvania — Indiana
CCNE Accredited
Jameson Health System — New Castle
Jameson Memorial Hospital School of Nursing
NLNAC Accredited
Jefferson County-DuBois AVTS — Reynoldsville
NLNAC Accredited
Kutztown University — Kutztown
Department of Nursing
NLNAC Accredited
La Roche College — Pittsburgh
Division of Nursing
COA, NLNAC Accredited
Lancaster General Hospital — Lancaster
Division of Nursing
NLNAC Accredited
LaSalle University — Philadelphia
CCNE Accredited
Lawrence County Vocational Technical School — New Castle
Practical Nursing Program
NLNAC Accredited
Lehigh Carbon Community College — Schencksville
Associate and Practical Nursing Programs
NLNAC Accredited
Lenape Area Vocational and Technical School — Ford City
School of Practical Nursing
NLNAC Accredited
Lock Haven University — Clearfield
PA Nursing Program
NLNAC Accredited
Luzerne County Community College — Nanticoke
Department of Nursing
NLNAC Accredited
Mansfield University — Mansfield
NLNAC Accredited
Marywood University — Scranton
Department of Nursing
NLNAC Accredited
Mercyhurst College — Northeast
Nursing Program
NLNAC Accredited
Messiah College — Grantham
Department of Nursing
CCNE Accredited
Mifflin-Juniata Career and Technology Center — Lewiston
NLNAC Accredited
Millersville University — Millersville
Department of Nursing
NLNAC Accredited
Misericordia University — Dallas
CCNE Accredited
Montgomery County Community College — Blue Bell
Nursing Program
NLNAC Accredited
Moravian College — Bethlehem
CCNE Accredited
Mount Aloysius College — Cresson
Nursing Division
NLNAC Accredited
Nazareth Hospital School of Nurse Anesthesiology — Philadelphia
COA Accredited
Neumann College — Aston
NLNAC Accredited
Northampton Community College — Bethlehem
Nursing Department
NLNAC Accredited
Northern Tier Career Center — Towanda
NLNAC Accredited
Ohio Valley General Hospital — McKees Rocks
School of Nursing
NLNAC Accredited
Pennsylvania College of Technology — Williamsport
School of Health Sciences
NLNAC Accredited
Pennsylvania Hospital School of Nurse Anesthesia — Philadelphia
COA Accredited
Pennsylvania State University- University Park
School of Nursing
CCNE, NLNAC Accredited
Pottsville Hospital School of Nursing — Pottsville
NLNAC Accredited
Reading Area Community College — Reading
Nursing Programs
NLNAC Accredited
Reading Hospital and Medical Center — Reading
School of Health Sciences
NLNAC Accredited
Robert Morris University — Moon Township
CCNE Accredited
Roxborough Memorial Hospital — Philadelphia
School of Nursing
NLNAC Accredited
Sharon Regional Health System — Sharon
School of Nursing
NLNAC Accredited
Slippery Rock University — Slippery Rock
Department of Nursing
NLNAC Accredited
St. Francis University — Loretto
CCNE Accredited
St. Luke's Hospital — Bethlehem
School of Nursing
NLNAC Accredited
Temple University — Philadelphia
CCNE, NLNAC Accredited
University of Pennsylvania — Philadelphia
School of Nursing
CCNE, COA Accredited
University of Pittsburgh — Pittsburgh
CCNE, COA, NLNAC Accredited
Venango County Vocational Technical School — Oil City
NLNAC Accredited
Villanova University — Villanova
College of Nursing
CCNE Accredited
West Chester University of Pennsylvania — West Chester
CCNE Accredited
Widener University — Chester
CCNE Accredited
Wilkes University — Wilkes Barre
CCNE Accredited
York College of Pennsylvania — York
CCNE, COA Accredited
1 American Hospital Directory
2 Salary.com
Get Your Free Information on Nursing & Healthcare Programs
Find Your Healthcare Degree Fast