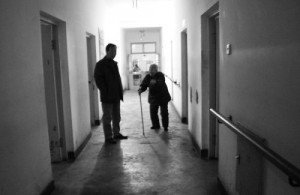 One of the top complaints of nursing home patients is loneliness. When my grandmother had to go into a nursing care facility, I noticed that they had two dogs at the front desk that were permitted to roam free throughout the building. I had never seen this before, but it made perfect sense. It turned out that these dogs were on doggy "death row" but were both mild mannered and very friendly. Luckily, the head of the nursing home staff heard about these sweet little guys and adopted them for the patients to call their own.
Staying Active
Having cats or dogs in a nursing home is a great way for senior citizens to stay active. They can help groom the pets, take them for walks and while they think that they are helping to take care of the animals, they are getting a great workout themselves! It is also perfect for children and grandchildren when they come and visit by giving them something to share with their family.
A Healthy Dose of Happy
Not only is having a faithful companion around good for reducing depression and loneliness according to the Journal of the American Geriatrics Society, but it also lowers blood pressure and cholesterol and reduces their risk for heart disease.
Foundations for Pairing Up Pets and the Elderly
Thanks to the dramatic positive physical and mental effects that animals have on the elderly, the Pets For the Elderly Foundation was organized to help match up senior citizens with pets to help them overcome loneliness and reduce anxiety. With such great results from pairing up millions of unwanted animals that need homes with elderly people who have plenty of love to give, this is undoubtedly a match made in Heaven!