Find a School Near You in Oregon and Study Nursing
Grab a Great Career in a Green State
Oregon has made serious inroads in battling the nursing shortage that plagues deeply the entire country. Enrollment in state nursing programs is up, nurse educators have been added to help carry the load and the number of RN job vacancies has dropped. HOWEVER, even this proactive industry movement has not been enough to totally overcome the problem. Truth is in Oregon many RNs are expected to leave their jobs in the next decade and nurse educators are just not easy to come by. This is good news for new students to nursing — you are in high demand and job outlook is excellent.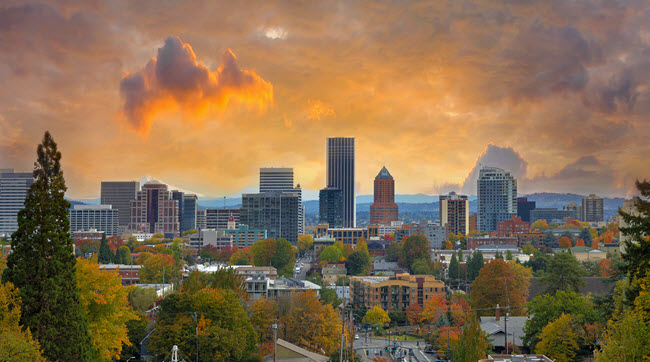 Check out the list below. Here are a few tips that will make your search easier:
Finding Good Jobs and RN Salaries in OR
For its size Oregon has a relatively small number of hospitals, just 35. Of these many are small. Hospitals remain the leading employers for nurses. They tend to pay well and offer nice benefits. They also offer a wide array of job opportunities. Biggest employers in Oregon hospitals include Oregon Health and Science University Hospital (OHSU), Providence Saint Vincent Medical Center, Providence Portland Medical Center, Legacy Emanuel Hospital and Health Center, all in Portland; Sacred Heart Medical Center in Eugene and Salem Hospital in Salem.(1)
Salary wise you'll find nurses in metro areas earn more than those in rural areas. Average RN salary range in Portland is between $58,000 and $69,000 — one of the better in the nation. Compare this to the salary range for an RN working in the Medford OR area--$53,000 to $64,000 (2) and you can easily see the trend. Don't forget nursing jobs outside hospitals as well.
Salary-boosting tips for RNs working in Oregon:
Take a travel nurse assignment in Oregon. Yeah, you can do this and still be a resident of the state. Travel jobs pay well and many package in extra incentives like very lucrative completion bonuses.
Take a job at a hospital that guarantees a sign-on bonus. Work as a per diem nurse.
Sign up for overtime, holiday and extra shifts wherever you work.
For information on state licensure requirements visit the Oregon State Board of Nursing.
Oregon Nursing Schools Offering Some Online Degree Options
Linfield College — Portland
Good Samaritan School of Nursing
Oregon Health & Science University — Portland
School of Nursing
CCNE Accredited
Search our big list of online nursing schools for many more distance education opportunities for nursing students.
Campus-based Nursing Schools in Oregon
Chemeketa Community College — Salem
Nursing Education Program
NLNAC Accredited
Clackamas Community College — Oregon City
Health Sciences Department
Clatsop Community College — Astoria
Nursing Program
George Fox University — Newberg
CCNE Accredited
Lane Community College — Eugene
Linfield College — Portland
Good Samaritan School of Nursing
Linn-Benton Community College — Albany
Health Occupations
Mount Hood Community College — Gresham
Allied Health
Oregon Health & Science University — Portland
School of Nursing
CCNE, COA Accredited
Portland Community College — Portland
Nursing Department
NLNAC Accredited
Rogue Community College — Grants Pass
Allied Health/Nursing
Umpqua Community College — Roseburg
Nursing Department
NLNAC Accredited
University of Portland — Portland
School of Nursing
CCNE Accredited
Walla Walla University — Portland
School of Nursing
NLNAC Accredited
1 American Hospital Directory
2 Salary.com
Get Your Free Information on Nursing & Healthcare Programs
Find Your Healthcare Degree Fast