MSU's Distance Program a.k.a. Global Online Connection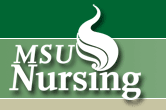 School Overview
Serves:
USA
Accredited by:
NCACHE
Enrollment:
Rolling
Financial Aid:
Yes
Scholarships:
Yes
Two Nursing Degrees Offered Exclusively On the Web
Michigan State University, located in Lansing, Michigan, is one of the largest universities in the United States and renowned for its research programs. For students interested in studying abroad, MSU's offerings are unparalleled and, in many cases, open to both MSU and off-campus students. The university first was opened as an agricultural college and over the years has modified its program focus. MSU now integrates its traditional campus degrees with a growing number of online degree programs, including BSN for Registered Nurses and MSN in Education degrees.
There are 17 academic colleges at MSU including renowned Eli Broad College of Business, James Madison College, Lyman Briggs College, College of Veterinary Medicine, and College of Nursing, to name a few. From these colleges over 200 degrees are conferred to 45,000-plus traditional students.
MSU Innovates
Like other innovative institutions, MSU has expanded to include a virtual campus, known as the Global Online Connection, for its international reach. The purpose of this virtual environment is to extend the university's degrees to a larger population, especially adult professionals that may not have the flexibility to attend a traditional on-campus program. The university offers eleven specialized degrees in subjects such as Criminal Justice, Food Safety, Physics, and Nursing. Professional certificates include another ten programs available to online students.
MSU College of Nursing
MSU's College of Nursing offers six nursing degree types including a BSN, MSN, PhD, and post-masters certificates. The BS for RNs and the MSN in Education are both offered in a completely online environment. The CON was established in 1925 and functioned similarly to a nursing diploma program. Students worked and studied for part of their nursing program at Sparrow College in Lansing. Today the curriculum is highly relevant to the current demands of nursing and the addition of online degrees supports that. An on-campus community health center provides regional medical support, and serves as a practice site for nursing students and faculty. In keeping with MSU's reputation as a study abroad leader, a number of nursing programs are taken to overseas sites where nursing students may exercise global nursing concepts and implement foreign language skills.


Bachelor's Nursing Degree Programs
Master's Nursing Degree Programs
Get Your Free Information on Nursing & Healthcare Programs
Find Your Healthcare Degree Fast