Seton Hall University-Virtual Education Partners with Reputable Campus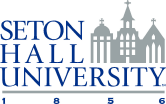 School Overview
Serves:
USA
Accredited by:
MSCHE
Enrollment:
Rolling
Financial Aid:
Yes
Scholarships:
Yes
Relevant, Cutting Edge Professional Degrees
Seton Hall University in New Jersey is one of the Northeast's most respected Catholic institutions. Traditional academics were established in 1856 with the founding of Seton College, a men's educational institution. From the beginning, though, Seton Hall has sought to provide higher education to all individuals and, like other Catholic universities, follows tenets that propose to teach the whole person. In the late 60s, the university converted to a coed system.
Today's campus administers college degrees to about 10,000 students across eight academic schools, including: Stillman School of Business, Whitehead School of Diplomacy and International Relations, School of Law, College of Nursing, Immaculate Conception Seminary School of Theology, School of Graduate Medical Education, College of Education and Human Services, and the College of Arts and Sciences. Seton Worldwide is the university's "online campus" a veritable stockpile of undergraduate, graduate, and certificate programs offered in one of the leading edge online educational environments.
Seton Worldwide
Distance learning has become important enough to the Seton University experience that it's considered one of the academic schools. The program offers a diverse and relevant array of very current degrees. Programs in Nursing, Healthcare, Strategic Communication, and Education encompass the Seton Worldwide menu of online degrees.
Distance learning programs are created and developed to extend college and university programs outside the traditional paradigm. Larger and larger volumes of working adults seek the convenience of online degrees when it comes to career boost, continuing education, or career change.
Online students may purse three distinct nursing degrees: Masters of Science in Nursing for Nurse Practitioners, the Masters of Science in Nursing for Health Systems Administration, and the BSN for RNs. Working nurses already battle stressful schedules and short-staffs, and few have the time or energy for traditional campus programs. However, a nursing shortage rages and opinions vary over most contributory factors. It may be that professional nurses simply require more convenience. They may also require some convincing that an advanced degree may really put them in a better salaried position where their opinion counts.


Nursing Bachelor's Degree Programs
Nursing Master's Degree Programs
Get Your Free Information on Nursing & Healthcare Programs
Find Your Healthcare Degree Fast