University of Cincinnati Combines Distance Degrees with Continuing Education Courses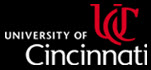 School Overview
Serves:
US
Accredited by:
NCACS
Enrollment:
Rolling
Financial Aid:
Yes
Scholarships:
Yes
Technology-Based Learning for Pro Nurses
The University of Cincinnati in Ohio has offered post-secondary degrees since the early 1800s. The campus is an integral part of downtown Cincinnati and operates 16 academic colleges, including: Applied Health Sciences; Education, Criminal Justice and Human Services; and Engineering, Nursing, and Social Work, among others. Students may study at undergraduate, graduate, and post-graduate levels.
UC designs its curriculum on a General Education paradigm that proposes students learn across a balanced matrix of material, otherwise called Baccalaureate Competencies. These components of higher education are "breadth of knowledge" and "program requirements." Aspects of the baccalaureate competencies include communication, integration of knowledge, social responsibility, and critical thinking--all expected of nursing students..
How Online Nursing Programs Fit In
Unlike many other traditional colleges and universities, UC has rolled out a comprehensive online education model that is focused on both degree seekers as well as those seeking standalone professional certificates and targeted courses. The university offers a variety of undergraduate and graduate degrees, and academic certificates, but also provides learning programs for the community at large. Non-credit courses and continuing education classes draw more granular learners.
What You'll Get When You Study Nursing Online with UC
Professional RNs -- here are two cutting-edge advanced nursing programs focused on specialties in Women's Healthcare-Nurse Midwifery and Nurse Practitioner in Women's Health. Better yet, you can earn a degree in either one on your terms and according to your work and personal schedule. Take two years and get the education and the job you deserve. Even the required clinicals are designed for your convenience: schedule on-site clinicals at a healthcare facility in your home region. The College of Nursing boasts a clean record of accreditation for over 70 years, as well as one of the most regionally respected nursing programs.


Nursing Programs for Continuing Education
Master's Nursing Degree Programs
Get Your Free Information on Nursing & Healthcare Programs
Find Your Healthcare Degree Fast