Career Centric, Online Degrees Deliver the Latest Nursing Skills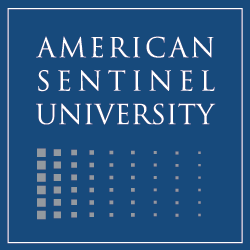 School Overview
Serves:
USA
Accredited by:
NCACS
Enrollment:
Several Terms
Financial Aid:
Yes
Scholarships:
No
American Sentinel University: Get a Top Notch Online Nursing Degree
American Sentinel University delivers, exclusively, online degree and continuing education programs for nurses as well as a wide range of career-focused business and tech professionals.. Founded as a career-centric adjunct to prestigious Vanderbilt University, ASU has been building upon its educational menu since the late 80s. The former name—American College of Computer and Information Science—indicates the founders' focus on contemporary, professional, and high-end programs.
This academic focus continues to be modified as necessary to keep abreast of the latest requirements of business, healthcare, and technology, all of which embrace a slew of emerging markets and technologies, both nationally and globally.
What You Get in Academics at ASU
ASU offers Associates, Bachelors, and Masters degrees, plus a handful of very specialized computer/IT certifications. Degree programs are designed to offer "structured independent study courses" that run on 8 to 12 week schedules. Within this independent study model, students have set classmates with whom they communicate virtually and receive constant support from faculty, many of which have high-level jobs within the fields they teach. Faculty members such as these, that balance work and instructor positions, are commonly required among adult learning institutions. Professionals demand relevant information and cutting edge tools and techniques in any profession. This gives them job traction when it comes to competing with peers.
Within each degree program students complete one course at a time, completely immerse themselves in a single subject. Comprehensive exams test them for knowledge consistent with industry standards. This is a learning metric similar to competency-based programs. Once skills and knowledge are learned and retained, students may move ahead.
Easily Accessed Nursing and Healthcare Degrees Offer Career Impact
American Sentinel's nursing programs include the RN-BSN degree and a MSN. These core degrees are two of the most popular in nursing today. The BSN degree allows you to build systematically upon the clinical skills you've amassed as a working RN. Learn how healthcare organizations function, nursing's role in the big picture, gain insight and experience with team work models and hone your skills in problem-solving, decision-making and evidence-based research. These lessons place you well above the cut of basic nurse.
The MSN offered through American Sentinel is targeted to the next gen nurse administrator. If you're serious about healthcare leadership and making your mark, then find out how this program may be fit to your personal and work schedule. Equally engaging degree programs a couple hybrid business/IT degrees: Associates and Masters degrees in Health Information Management, and an MBA in Healthcare.
ASU's online nursing programs are industry standard nursing degrees modified for contemporary distance learning paragdigms. Professional, working RNs: if you have a true interest in self-instruction and independent study thn you have wide berth to explore flexible degree options with the university. Financial aid packages and payment plans are available, as well as ASU's own grant program, solely designed for the most financially needy students.


Bachelor's Nursing Degree Programs
Master's Nursing Degree Programs
Get Your Free Information on Nursing & Healthcare Programs
Find Your Healthcare Degree Fast