Post: Specializes in Business and Career Training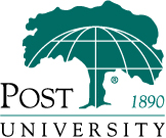 School Overview
Serves:
Worldwide
Accredited by:
NEASC
Enrollment:
Rolling
Financial Aid:
Yes
Scholarships:
Yes
Reputable New England University Offers Unique Programs and Certificates
Founded as a business college in 1890, Post University in Central Connecticut today dishes up a reputable combination of undergraduate and graduate degrees to traditional as well as online students. Post offers an impressive array of degrees in diverse fields. Two distinct divisions define the academics: Business, and Arts and Science. From its heyday as a leading northeastern business school, Post has gone onto expand and diversify its academics and now offers a couple unique programs, such as Equine Management and Legal Nurse Consulting; this latter through the online program.
The university has a reputable athletics program for its size. Men's and women's soccer, women's volleyball, and track and field team are all noted as some of the most consistent and impressive among the CACC.
Distance Learning Program
In keeping up with current trends in business and industry, too, Post offers a viable distance-learning environment. Students seeking online degrees and professional certificate programs comprise the primary population of distance learners. Online degrees from Post include Associates, Bachelors, Masters, and certificates in Accounting, Criminal Justice, Business Administration, Early Childhood Education, Finance, Human Resources Management, Legal Nurse Consulting, Paralegal, Management, and Marketing. Programs are designed to be delivered totally online with no on-campus visits required. Any required degree-specific internships may be scheduled regionally in advisement with faculty. All Post University degree programs are accredited by the Commission on Institutions of Higher Education.
Online Nursing
The online nursing degree is more business than it is nursing. Applicants must already be practicing RNs, eager to go to work as Legal Nurses. Courses are heavy on law and court proceedings, as well as advanced research and ethics.
Post requires online students to be reasonably skilled with computers and online navigation, as well as possess particular system requirements and follow rules governing safe sharing of online files.
Traditional and online students have full access to the university's Career Development services that assist students with co-op educational situations, internships, and job searches. Those that remain confused about the best tack to take in a career may also have the assistance of career counselors skilled with isolating best qualities and skills.


Nursing Certificates
Get Your Free Information on Nursing & Healthcare Programs
Find Your Healthcare Degree Fast