Online Masters of Science in Nursing Favors Administration Majors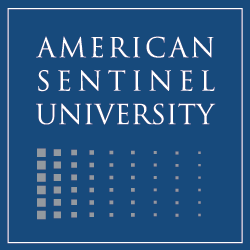 School Overview
Serves:
USA
Accredited by:
NCACS
Enrollment:
Several Terms
Financial Aid:
Yes
Scholarships:
No
Considered Nursing Administration? Study Online with American Sentinel University
The online Masters of Science in Nursing (MSN) degree offered through American Sentinel University is designed to provide an across the board graduate nursing program that emphasizes leadership and management roles relative to a wide range of healthcare settings and systems.
Graduate nursing professionals are prepared to step outside the modalities applied during undergraduate work—those emphasizing supportive patient care and entry-level leadership roles. Instead MSNs are urged to apply their innate decision-making and critical thinking skills to care and administrative roles that demand a proactive professional.
American Sentinel's program is developed to reach out to a wide realm of working nurses interested in a targeted, and relevant graduate degree that makes them more marketable to healthcare administration. Contemporary health care systems of all shapes and sizes seek highly trained RNs with the business savvy to both conform, as well as offer innovative insight in dynamic and rapidly evolving delivery systems.
Skills and Curriculum You'll Have Access To as a Student in the Program
The MSN is 36 credit hours of challenging coursework that will no doubt push you to the next level of pro nursing. You'll get a one-two combination made up of core graduate nursing courses and relevant and targeted topics in nursing leadership and administration. Core curriculum includes courses in: nursing research, nursing theory, healthcare delivery for diverse populations, and organizational behavior of modern healthcare systems.
Specialized curriculum designed specifically for the ASU degree includes course topics in: management of human resources, leadership strategies for contemporary healthcare delivery systems, economics and finance for healthcare, healthcare informatics, and law and ethics for healthcare leaders.
What You'll Need to Gain Access to the MSN Program
Applicants must have at least five years of clinical RN experience and a completed Bachelor of Science in Nursing (BSN) degree from an accredited nursing program. Undergraduate GPA must be at least 2.67. Candidates are asked to write a "goals statement" that must be attached to their application. A clear and concise argument for career choice, as well as institutional choice, is ideal.
Candidates in any online program must be prepared for the particular demands of such a degree delivery system. Distance learning is challenging and is not suited to everyone. Courses must be completed within a reasonable amount of time and working nurses must be able to self-manage their personal study schedules within the constraints of work and family demands.
Your Career Opportunities as an MSN Degreed RN
MSN degreed RNs have unlimited career mobility within healthcare. Contemporary demands are such that more highly trained nursing professionals are being groomed for mid- to upper-level management roles, even executive positions. A combination of intensive ground-level patient care and relevant business and administrative education, is forming a new layer of healthcare administration specialists. Nurse administrators may find plenty of jobs within hospital leadership, and in outside healthcare systems, such as community health, long-term care, in private offices and in private business, such as pharmaceuticals.
American Sentinel offers professional, online career-centric degrees designed by leading educators.


Get Your Free Information on Nursing & Healthcare Programs
Find Your Healthcare Degree Fast