Bachelor of Science in Nursing Degree Completion Through American Sentinel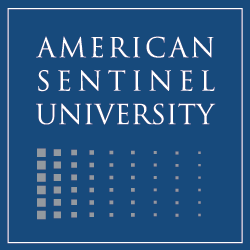 School Overview
Serves:
USA
Accredited by:
NCACS
Enrollment:
Several Terms
Financial Aid:
Yes
Scholarships:
No
Online RN-BSN Mixes Competency Exams with Clinicals and Theory
American Sentinel University's online RN-BSN degree program gives you a contemporary spin on a standard nursing degree program. Founded on educational values that center on real world academic programs, the RN-BSN combines both theory and practicum to graduate BSN degreed RNs ready to hit the ground running.
The Bachelor of Science in Nursing (BSN) degree has become the industry standard. Nurses have ample career flexibility with their baccalaureate both within and without hospital systems. Many nurses continue to begin their careers with two-year Associates degrees or diplomas—though diploma programs are nearly obsolete. Associates degrees are widely available at community colleges and most supply a high-quality, skills-centric degree that trains entry-level RNs to be effective patient caregivers.
RN-BSN programs are unique to the field and provide degree completion of undergraduate coursework.
Look at the Curriculum You Gain Access to When You Study Your BSN Online with ASU
Here are 30 credit hours of upper level nursing courses designed as the completion part of the BSN degree--all absolute must-haves for serious RNs. However, there may be additional courses required of nursing candidates whose transfer credits don't meet this standard. Any required prerequisite courses may be culled from a range of liberal arts curriculum.
The major courses in the degree program blend in practicum with theory and skills courses. For example, BSN candidates may take two or three courses online before they are required to complete a practicum. This method guarantees marriage of learned material to applied patient care and leadership environments. Online courses specifically designed for the baccalaureate nurse, include: nursing research, advanced patient assessment, contemporary issues in nursing and healthcare, and case management. At various stages throughout the program BSN candidates are required to take an exam—a type of competency-based metric to ensure knowledge and skills are being adequately synthesized.
ASU emphasizes hands-on practicum to ensure BSNs get the broadest range of training designed for real world, dynamic health care systems. Students are engaged locally in clinicals that focus on community and public healthcare, and in leadership and management of the same types of systems. These programs are scheduled locally and approved by ASU faculty.
What You'll Need to Get in on the BSN Study Track
Applicants for ASU's online RN-BSN program may register at any time and classes begin monthly, so there is no wait to fast track a career. Candidates must have transcripts from a previous accredited nursing institution proving a completed two-year degree and a GPA of at least 2.0, as well as a valid RN license. Online candidates must be prepared for the particular challenges offered through a distance-learning paradigm: self-motivation, and long-term, self-managed study regimens.
RNs with degrees from schools within the state of Colorado may be admitted on the terms of the Colorado Nursing Articulation Model--entrance exams are waived.
With a BSN to Your Name
Imagine the career opportunities you'll have: RNs with their BSN degree may move rather freely within the field of nursing. If before they felt doomed to staid low-level patient care, as degreed BSNs they are offered entry-level management responsibilities and expected to step-up patient care to a more proactive level. BSNs are welcome in micro-specialized areas of healthcare: they may pursue "hot jobs" in travel nursing, as well as high-tech specialties, including Hyperbaric Nursing, Radiology Nursing, Dialysis, and Telemetry Nursing.


Get Your Free Information on Nursing & Healthcare Programs
Find Your Healthcare Degree Fast