Developmental Disabilities
Nurses in the Developmental Disabilities Field: What it Takes to Excel
Dealing with Autism, Downs Syndrome, and other DDs
Childhood autism disorders have come to the forefront of medicine in recent years. The issues surrounding autism examine the challenges faced by so many families with autistic children, but also underscore the field of Developmental Disabilities as a whole. Developmental Disabilities Nurses (DDNs) work with unique patient populations and employ nursing paradigms across a wide spectrum of developmental disorders.
Nurses often work with a unique patient population, in a challenging environment, or with a particular specialty, but DDNs must adapt to a combination of these work demands.
Diverse Work Settings Characterize DDN Specialties
DDNs face challenging work situations and are as subject to the strain of staff shortages as any type of nurse. DDNs are used in school systems, public health, long-term care facilities, mental health facilities, hospitals, and group homes. Online forums often provide a first-person synopsis of current industry pros and cons for novice nurses interested in DD nursing.
Patient care settings such as these typically indicate all types of patients with an amazing assortment of disorders and healthcare needs. Nurses must not only be drawn to this type of nursing, but must be committed to continual education.
Developmental Disabilities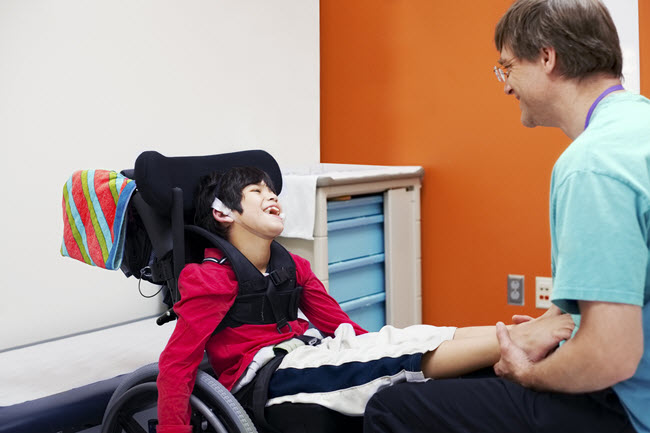 Some of the most common DDs with which nurses come into contact include:
Autism
Downs Syndrome
Cerebral Palsy
Epilepsy
Information About Degree Programs
Many nurse subspecialties require staff to have advanced degrees. The field of developmental disabilities would of course seem predisposed to similar requirements solely based on the technical nature of the nursing practice. However, there is a growing concern among professional nurses in the field that the lack of degree and work experience requirements diminish the value of nurse professionals, as well as create potential situations in which patients may receive less than optimal care.
Of course nurses with advanced practice nursing degrees—Masters in Nursing—are always preferred, but DD nursing makes significant use of Licensed Practical Nurses and entry-level RNs with very few degree and experience prerequisites necessary.
Opportunities for New Grads
On the other hand, novice nursing graduates that are drawn to DD nursing will likely find quite a number of jobs in developmental disability settings. Unfortunately some settings pay much less than others and as mentioned above nurses are in alarming shortage. Shifts may be long and patient load less than ideal. But in many cases this type of work gains new nurses a valuable set of skills and on the job experience that may be parlayed into more lucrative positions later in their careers.
Credentials
The Certified Developmental Disabilities Nurse (CDDN) certification is a nationally recognized industry credential. The Developmental Disabilities Nurse Association (DDNA) encourages members to take the exam. Credentialing helps promote the field as a specialty and eventually drives industry-wide job requirements. With or without credentialing, most DDNs are required, as a part of their job description, to earn a particular number of continuing education units each year or couple of years. These auxiliary courses may provide highly technical information related to very specific disorders.
Almost all RN specialties have rosy career outlooks. The Bureau of Labor Statistics provides a brief overview of RN specialties and reports a better than average job demand in the future. The nationwide nursing shortage, in combination with increasingly specialized medical environments, is one of the driving forces in the nursing career outlook.
Get Your Free Information on Nursing & Healthcare Programs
Find Your Healthcare Degree Fast