Dialysis Labs Need Nephrology Nurses Seeking Close Patient Relationships
Rewarding Work with Long-Term Patients
Dialysis nurses report a high level of job satisfaction, and are especially rewarded by their patients. Dialysis patients tend to be long-term or die while in the care of dialysis or nephrology nurses. Nephrology nurses specialize in kidney failure patients, a brand of acute care patient with long-term and ultimately life-threatening conditions. Many nurses, including LPNs and RNs, are employed in dialysis labs where patients come regularly for renal dialysis. Dialysis cleanses the blood when the kidneys are no longer able to perform this function.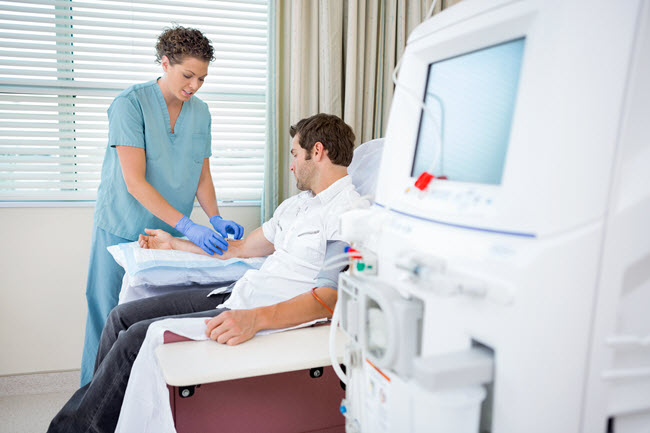 Role of a Nephrology Nurse
Nephrology nurses work closely with kidney failure patients and their families. Outside the medical aspects of the disease, there are psychological effects and coping issues to deal with. While dialysis is a big part of nephrology and kidney failure, not all patients must have dialysis. Kidneys may continue to do adequate work cleansing impurities from the system for a long time, depending on a number of patient factors. Nurses monitor nephrology patient status on a regular basis, including diet and exercise, which are critical. He or she also collaborates with physicians and dialysis nurses and other nephrology specialists. Patients often become like family members in a nephrology unit or dialysis center.
Dialysis is a critical component in nephrology patient care and generally is prescribed when the kidneys have outlived their ability to function. A dialysis machine does the work that kidneys once did. Hemodialysis centers provide regionally located conduits for dialysis patients to receive their treatment. Centers exist all over the world. Most centers are staffed with dialysis nurses that work regularly with a group of patients. Dialysis takes up to four hours to run its course and patients typically receive treatments three times a week. This type of interruption in lifestyle affects a whole family. Nurses often bring in social workers to help patients with lifestyle changes and general anxiety.
Challenges to Dialysis Nursing
Dialysis nursing suffers from one of the most acute staffing shortages. According to some sources, dialysis centers and dialysis nurses are already working overtime to accommodate patients, but many more centers are sorely lacking the dialysis nursing staff to handle the patient load.
Degrees & Training Requirements
Degree requirements for nephrology and dialysis nurses may differ depending on the facility. In many cases both LPNs and RNs are employed, but RNs are typically preferred. Nurse Practitioners, Clinical Nurse Specialists, and Case Manager Nurses may hold advanced practice degrees with a specialization in Nephrology or Dialysis. Nurses at this level have either Masters or Ph.D. degrees and often work in research, education, or administration within the context of nephrology.
Certification
The Nephrology Nursing Certification Commission (NNCC) offers three different nursing certifications:
Certified Nephrology Nurse (CNN) exam is open to RN licensed nurses with at least Bachelors in Nursing degrees and two years work experience as clinicians in a nephrology care setting.
CNN-NP, or Certified Nephrology Nurse-Nurse Practitioner exam, is designed for the specialized NP. Eligible candidates must be RN licensed and have at least a Masters in Nursing degree, and 2000 hours of clinical experience in a nephrology care setting.
Certified Dialysis Nurse (CDN) exam is open to RN licensed nurses with at least 2000 hours of work experience in a nephrology care setting.
Nursing certifications may be required by a state nursing board, by a particular facility, or for a certain nursing position. Professional credentials prove a level of competency in a specialty as mandated by a certifying board of nursing.
Get Your Free Information on Nursing & Healthcare Programs
Find Your Healthcare Degree Fast