Nurses Provide One-On-One Patient Care in Critical Care Units
Post-Surgical and Critically Ill Patients Require Constant Attention
Critical care in a medical environment is typically that found in intensive care units, emergency departments, and in cardiac units. Critically ill patients that require a high-level of nursing care and nearly constant monitoring are typically in the care of critical or acute care nurses.
This type of nursing specialty is high intensity and demanding. Ideally, nurses work in well-equipped settings and are in a one to one ratio in patient care. Unfortunately current nursing shortages stretch the skills of critical care nurses that are more often than not faced with multiple patients to care for.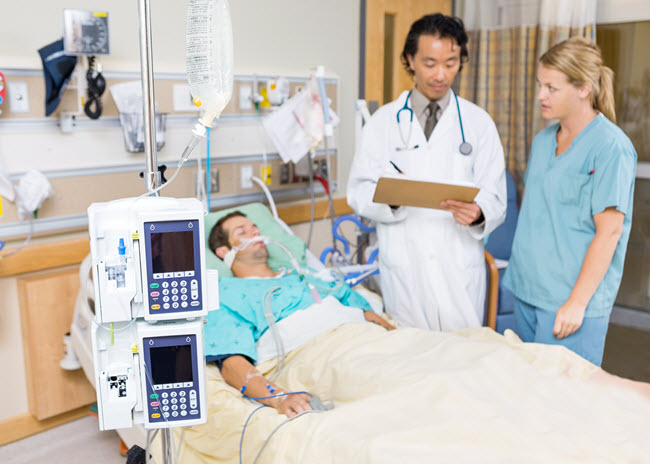 Nursing Role
Nurses in critical care situations learn a wide range of specialized care. They must employ emergency life-saving skills at a moment's notice, make immediate care decisions, provide constant care to patients that are often unconscious or heavily sedated, as well as offer support to patient family members. Critical care patients sometimes leave the hospital, often are transferred off an acute care floor for follow-up care, and some die there. Nurses must adapt to these emotional situations.
The work environment of critical care can be a bit demanding. Nursing staff must work around the clock, so RNs may be assigned to day shifts, evening shifts, night shifts, or rotating shifts. Nurses with the most seniority usually earn the best shifts. Shifts in a critical care unit are typically 12-hours long.
Critical Care Subspecialties
Subspecialties of critical care, such as Neurology, Trauma, Cardiac/Thoracic, Respiratory, Medical, Surgical, and Burn Units, all employ critical care nurses. RNs are expected to get up to speed with knowledge particular to a subspecialty. Nurse preceptors usually work with new nurses to train them to specific areas.
Most acute patient care requires nurses have their RN licensure. They may hold Associates, Bachelors or Masters degrees and have significant career mobility within the critical care field. Many clinical nurses are encouraged to go into education or management and a new push is on to get more nurses educated in their Masters and Doctorates.
Degrees and Credentials
Critical and Acute Care nurses must typically have at least a two-year Associates degree before they qualify to work in a critical care unit. Most units require nursing personnel to earn Basic Life Support (BLS) and Advanced Cardiac Life Support (ACLS) certifications. The American Association of Critical Care Nurses (AACN) is one of the most active professional organizations in nursing. The organization encourages nurses to earn their Critical Care-RN (CCRN) license, although it is not a requirement in most patient care settings. The license must be renewed every three years and candidates must hold a valid RN license. The test covers information relative to pediatric, adult, and neonatal critical care.
RNs across the board, according to the Bureau of Labor Statistics, will continue to be in high demand, especially as medicine becomes more specialized. A growing aged population could quite possibly drive up the needs in critical and acute care in the next couple of decades.
Get Your Free Information on Nursing & Healthcare Programs
Find Your Healthcare Degree Fast