Combine Clinical Experience with Technological Savvy in Informatics Jobs
New Specialty Taps Techie Nursing Talent
Informatics Nurses comprise a relatively new sub-specialty of nursing. In recent years pen and paper medical charts, doctors orders, even staff scheduling, have been rapidly converted to computerized processes and applications. Given the fact that the average age of an RN as of 2004 was 46 years old, it's not difficult to see that a sudden switch from manual documentation processes to new technology would have a distinct learning curve.
A New Era in Healthcare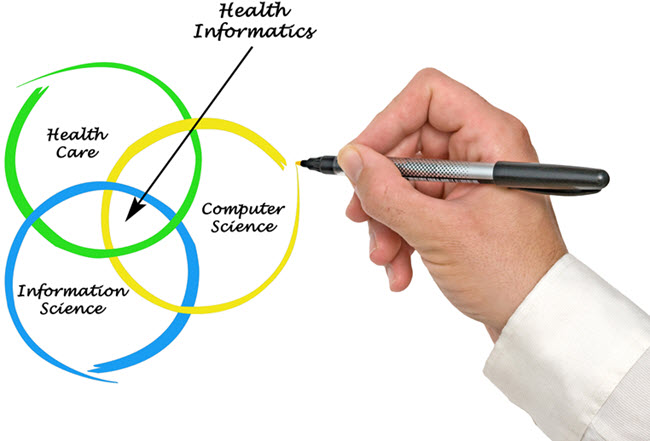 Healthcare Informatics is a rapidly evolving field that is directly engaged with the development of new information technology designed to manage various types of medical information quickly and efficiently. In many cases, large and small workgroups must use and share data. Emphasis is on patient care, with speed, conciseness, and teamwork being primary objectives. Informatics allows inter-related healthcare fields to communicate with each other and share disparate, but critical patient information often over long distances and despite divergent specialties.
Large medical institutions have already made large-scale conversions to electronic environments, including electronic nursing charts, online doctors orders, electronic scheduling. Much of the necessary patient medical records/histories must also be accessed via online databases: electronic patient records, and imaging databases.
Smaller medical facilities or those challenged by budget constraints, still have far to go in converting to electronic processes.
Role of Informatics Nurse
The role of an Informatics Nurse is still being defined. They may work with nursing informatics in a number of basic ways:
Within workgroups teaching fellow RNs to use new applications.
Within software design as developers and programmers.
Within companies that market various software solutions for nurses.
The most effective and knowledgeable Informatics Nurses have both clinical and computer experience. Informatics is poised to become a very specialized area of nursing, but it is nevertheless a nursing specialty, not a computer specialty. Because most data processes used by nurses are critical to their clinical practice, it is almost a given that a specialist in informatics must have an insider's view of the clinical procedures and types of data regularly used by nurses.
Informatics Nursing Degrees—Do They Exist?
Degree programs for nurses interested in informatics are widely available. In fact, our database includes over a dozen online programs you can explore today. The field is largely open to RNs with BSN degrees that wish to earn their Masters in Nursing. For example, the Masters in Nursing Informatics from Case Western Reserve University is a three-semester degree program that focuses heavily on theory and applications of nursing informatics, as well as legal and ethical issues in the field of medical electronic data. Graduates are prepared to fill Informatics Nurse Specialist positions in administration and clinical environments, as well as qualify for credentialing through the American Nurses Credentialing Center.
Certification in Nursing Informatics
The American Nurses Credentialing Center provides the industry-recognized Informatics Nurse Certification. Like other certification exams this also aims to prove licensed Informatics Nurses possess a consistent and comprehensive knowledge base that lends professional credence. The exam covers a wide range of technical information that serves to assure a level of competence in across-the-board informatics. Eligible candidates must have the following:
RN licensure.
Experience as a nurse clinician.
BSN, MSN, or Ph.D. degree in Nursing.
Work experience in nursing informatics or a degree in nurse informatics.
Career Outlook
This is perhaps one of the most up and coming nursing specialties. As medical informatics and technology becomes more widespread the demand for talented nurses with an aptitude for technology will skyrocket. Nurses will apply know-how of clinical work and computer technology to jobs in testing and maintenance, sales, development, and education.
Accelerate YOUR Career!
Some of the informatics programs in our database include:
Click here to view all these programs and more!
Get Your Free Information on Nursing & Healthcare Programs
Find Your Healthcare Degree Fast