IV Nurses are Specialists in Some Hospitals
Trained RNs and LPNs Monitor and Administer Patient Fluids and Medications
Hospitalized patients typically receive medications and fluids through an intravenous tube, or catheter, inserted into a vein or artery. In some care settings this is a sub-specialty of nursing. Intravenous Therapy Nurses are highly experienced with all aspects of IV care and maintenance. Unlike other nursing specialties there are no required credentials for IV Therapy. In many patient care settings staff nurses may be responsible for their patient's IV care.
Intravenous therapy describes an aspect of patient care that is focused on the administration of appropriate medications and fluids as ordered by a physician. IV Therapy nurse specialists work closely with staff nurses and laboratory personnel, especially phlebotomy technicians.
Specific Role of IV Therapy Nurse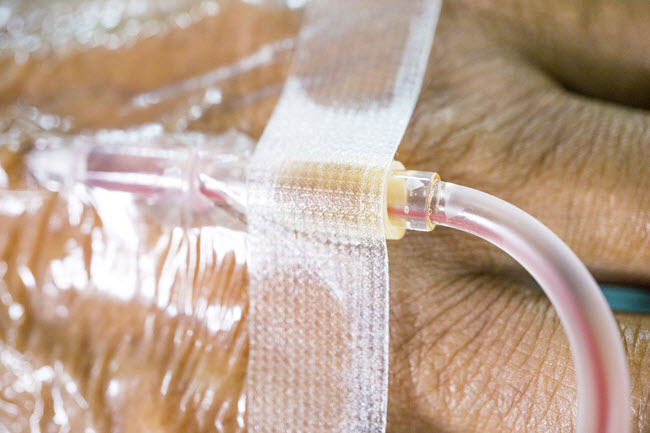 The job involves much more than placement of patient IVs; nurses also maintain IV site like any other wound, with attention for infection and displacement. Patient IV fluids and medications are closely monitored and documented, and any improvement, decline, or reactions are immediately addressed with an array of healthcare personnel.
Infusion Therapy Nurses have direct experience with:
Peripheral IVs--the most common intravenous delivery method.
Central IVs--those left in arteries where critical drugs and medications may have to be "pushed." These are common among surgical and critical care patients.
Types of fluids and mixes.
Risks inherent in IV therapy.
Degree Programs and Credentials
Plenty of staff nurses are qualified to deliver IV fluids and medication. Most RNs and some LPNs may be given IV responsibilities. For some nurses the ability to insert and place IVs is an enviable skill.
Educational requirements for nurses that place and monitor IVs are subjective. In settings where IV Therapy Nurses work as part of a specialized team, they are required to have attained a certain level of nursing capability. State boards of nursing and medical institutions determine the job requirements in this specialization. IV Therapy positions often require RN licensure, but this means nurses may have Associates, Bachelors or Masters degrees and still qualify for IV nurse positions. Masters level nurses may serve as educators for novice intravenous therapy nurses.
Get Your Free Information on Nursing & Healthcare Programs
Find Your Healthcare Degree Fast